The International Al Jolson Society and A.J.Recordings present

The World's Greatest Entertainer
This website is dedicated to the man who was known as The World's Greatest Entertainer, a superstar before the word was coined, and whose musical heritage created much of the entertainment industry we know today. With text, photos, music and more, here is the source to learn about Al Jolson, the master showman of American theatre, whose career spanned fifty years of American Music history. If you have never heard Jolson, you are in for a treat, as many of these pages contain excerpts from some of his most popular or memorable songs. As Jolie would have said,
"You ain't heard nothin' yet!"
---
---
THIS BANNER WAS ADDED TO THE JOLSON WEBSITE FIFTEEN YEARS AGO, FOLLOWING THE ATTACKS ON SEPTEMBER 11, 2001.
IT REMAINS, AND SHALL REMAIN, AS A REMEMBRANCE AND TRIBUTE UNTIL WE CAN SEE THE REALIZATION OF ITS WORDS.
---

In support of this country and all that it stands for; for those who have lost loved ones because they were Americans; for our friends from other countries who are with us; and those who stand ready to defend this country; here is Al Jolson with words from the past, that still ring true today!
---
---
---
---
---
Explore and enjoy these five main sections of the website:
[The Man]
[His Works]
[Now Showing]
[Links]
[IAJS]
---
Can't find what you're looking for? [Search This Site]
.
---
---
---
featured site area of the week:
At this time of year, when Jewish people around the world remember and honor their parents and loved ones, here is a moving look at the graves of Rabbi Moses Rubin Yoelson and Naomi Yoelson, the parents of Al Jolson.
---
---
---
---
| | |
| --- | --- |
| | Check these other Jolson sites on the Web! |
---
---
---
Here's your chance to let us know your interest in the site!
Add your comments to the Jolson Guestbook and
Put a pin in the GuestMap and show us where you are!
---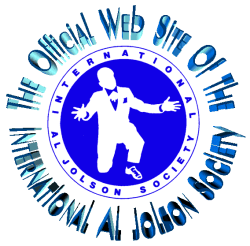 Email the webmaster of this site [webmaster @ jolson.org]
Entire contents of this website copyright © 1995-2016 - Marc I. Leavey, M.D. - Stevenson, Maryland, USA










. Updated 25 Sep 16.