---

|About the Jolson Website
---
---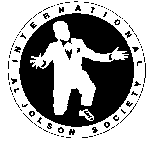 The
International
Al Jolson
Society
---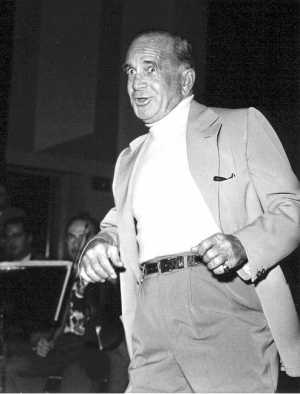 Now that you've found the site, let me tell you a little bit about it to help enhance your experience!
The site is divided into six major sections. Five are represented by the large buttons on the front page, and the sixth from assorted items on the front page.
The five button sections are:
The Man: Devoted to items about the man who was Al Jolson, there are sections here with biographical sketches and articles, Jolson's wives, Jolson's children, Jolson's legacy (including radio shows done in tribute to Jolie), a Jolson Quiz and a bibliography of books on Al Jolson.
His Works: This is where you will find the great bulk of Jolson multimedia presentations. Sections are devoted to the studio recordings, radio and film, with many online examples of each type. There are also links to merchants offering Jolson material for sale. A full Jolson discography is located in this section, and pictures and track listings of Jolson CDs are also included, many with links to purchase.
Jolson Sings Again Also called On Stage, here is where you will find information of current Jolson appearances. Whether on television or in stage productions, Jolson is still very much alive in the entertainment industry. There is also a section here devoted to Jolson memorializers, who carry the voice and spirit of The World's Greatest Entertainer.
Friends & Links: Several pages of links to site devoted to friends of Al Jolson, as well as other sites celebrating the kind of music Jolson sang, are located here. There are also webrings and links to features within the site about other famous folk.
Al Jolson Society: With over a thousand members worldwide, over a half century after his death, the International Al Jolson Society is going stronger than ever. Here you will find information about the Society, special offers of CDs and photos available to members, and a membership application. You can apply online, pay with a secure charge card, and become a member of the Society today!
In addition to all that, from the front page you can access a variety of other features. Above the buttons is a link to an Al Jolson Auction site, where you can buy or sell Jolson memorabilia. You can send electronic greeting cards with Jolson graphics. The scrolling marquee is updated weekly with new items on the site. The Jolson Forum gives you a chance to express your opinion, ask questions, and make new friends. Sign the Jolson guestbook just to say "hello!" A page is devoted to awards the site has received, and some information about this site. Many have asked for MIDI versions of Jolson songs, they can be played by compatible players with the icon shown.


---
All of the audio and video presentations on this website are in Real Audio or Real Video format. You need a RealPlayer to be able to enjoy this material. While there are versions of the RealPlayer that cost money, the truth of the matter is that the free versions work just fine. So, if you do not already have a RealPlayer installed on your computer, or if you are haveing problems with the one you have, you can use this link to go to the Real site, and download the latest version, the free versions will work fine.

http://www.real.com
---
---
---
Many of you may not want to download the Real Player, which is ad supported and may be a bit intrusive. And for those running other than Windows operating systems, the Real player can be problematic. Although I have no connection with and receive nothing from the site, I do have the VLC Player installed on my computer, as a versatile player for a variety of formats, including Real Media. There are versions for Windows, Mac, and even Linux, so if you are looking for a way to see and hear the material on this site, and more, you might check it out, at your own discretion.

http://www.videolan.org
---
So, check out all the features of the site, wander around, and enjoy yourself. If you are not already on the mailing list, use the convenient form on the first page to register. There is usualy an update to the rotating content each Sunday, with an Email sent out on Sunday or Monday. Feel free to email the webmaster of the site with your comments or requests. But for now...
---
---
---
If you came here from a link or search engine
Click here to return to the main page of this site
This listing and material Copyright © 1995-2014 Marc I. Leavey, M.D. Baltimore, Maryland
Updated 31 Jul 05
Updated 05 Oct 14