---

|The IAJS|2005 Jolson Festival
---
---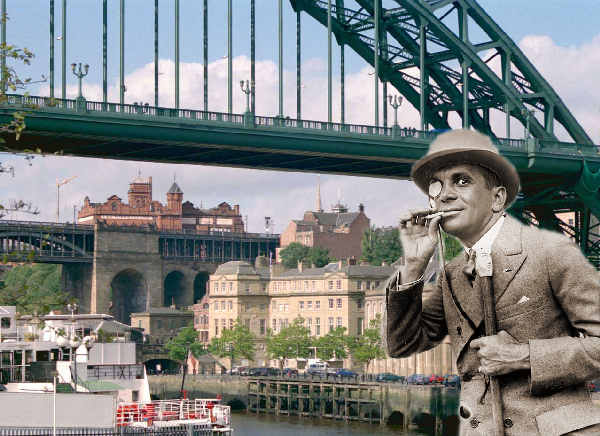 International Al Jolson Society
2005 Jolson Festival
---
Friday, May 20, 2005 through Sunday, May 22, 2005
Britannia Airport Hotel - Newcastle upon Tyne
ENGLAND
---
Hosted by Tony Farnfield and John King
---
Festival Report


The Britannia Hotel, Newcastle upon Tyne was the place to be over the weekend of 19-22 May 2005 with members from eight countries gathering for this year's annual Jolson Festival. Our "Jolson Jamboree" was certainly international, and was without doubt very happy and very, very enjoyable.

On Thursday evening, May 19th, a coach took some fifty guests to the Farringdon Working Men's Social Club in Sunderland, where they were entertained by vocalist Gerry Garcia, and had a buffet meal before returning to the hotel (I understand that our American guests enjoyed the cheap beer!!!)

Over the weekend, new friendships were made, old ones renewed and there was a buzz about the hotel (Jolie was very definitely there).

During both days the memorabilia room was open, giving members the opportunity to add to their collections. At the same time, the presentation room screened films including The Story of the Four Chaplains (with further narrative by John Webster) plus Cantor on the Sabbath (missing segment) and The Singing Kid and Immortal Jolson. All of these were available on sale as Society DVD issues, as well.

Meanwhile other members and guests did their own thing. Some went to see the historical sights of Newcastle, on foot or City tour bus; while others just went for some retail therapy. Wherever they went, whatever they did, they all seemed to enjoy themselves.

Throughout the weekend, guests gathered together in the lounge, in the lobby or in the Rangoon Bar, in small groups or large ones, all experiencing a never to be forgotten time, in the presence of other members who, like themselves, were there to honor Jolie.

The highlights of the weekend were, of course, our two shows, each running over three hours. Starring the Incomparable Tony Babino, who excelled himself on Friday night with his own Cabaret act and in the Saturday show including many Jolson numbers, his stunning performance brought everyone to their feet.

Other artists were vocalist Johnny Reynolds, Bill Campbell, Mel Thomas (in blackface) Rudy Wissler, Clem Vickery (Talented Banjo player) and the Jolly Girls (who got a standing ovation) for their Vera Lynn "We'll meet again" routine. Also much enjoyed was the very talented Bruce Bider at the piano and our Master of Ceremonies, Jan Hernstat.

A great weekend ended as always with the singing of "We'll Meet Again," and I am sure for many that will be next year in Philadelphia.

TO ALL OF YOU WHO CAME TO NEWCASTLE UPON TYNE, THEREBY PLAYING YOUR PART IN THE CONTINUATION OF "THE FABULOUS JOLSON STORY" MANY, MANY THANKS. SEE YOU IN PHILADELPHIA IN 2006!
---
If you came here from a link or search engine
Click here to return to the main page of this site
---
This listing and material Copyright © 2004 Marc I. Leavey, M.D. Baltimore, Maryland
Updated 12 Dec 04