---

|The IAJS|Application
---
---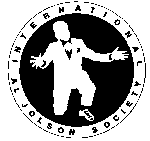 The International
Al Jolson Society
---
NEW MEMBERSHIP APPLICATION
---
If you would like to join the International Al Jolson Society, please complete the application below. Current dues is US$25 (UK£16). After completing all information, clicking the JOIN button will submit your application electronically, and give you full information about methods of payment.
---
This form is for new applications only. For existing membership renewals, please use the Membership Renewal Form. Payment may be by cash, check, or money order by mail, or by credit card through the secure PayPal link. Address and link are on the next page.
---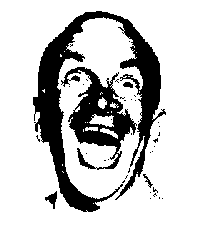 ---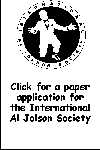 If you would rather send in a paper application, you can click these links for an application in PDF format. You will need the free Adobe Acrobat reader for this file, click here to obtain the reader if you don't have it!
Click for an application for US and non-UK world membership.
Click for an application for membership from the United Kingdom.
---
If you came here from a link or search engine
Click here to return to the main page of this site
This listing and material Copyright © 1995-2011 Marc I. Leavey, M.D. Baltimore, Maryland
Updated 13 Nov 11