---

|The IAJS|Audio Department|Radio Programs|Lifebuoy Programs
---
---
Al Jolson's Lifebuoy Program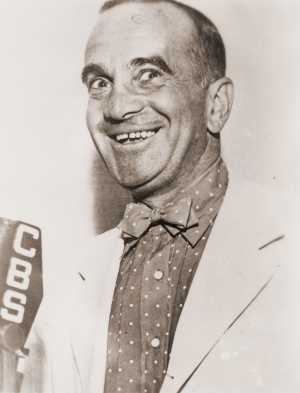 With 99 broadcasts spanning a time from the end of 1936 through the first quarter of 1939, Al Jolson's radio vehicle was originally called "Al Jolson's Cafe Trocadero," which was truncated to "The Al Jolson Program" after a few broadcasts. Sponsored by Lever Brothers, the show is nominally referred to as the "Lifebouy" program, although both Lifebouy Soap and Rinso Detergent were sponsoring products.
Martha Raye and Sid Silvers joined Jolie for the weekly broadcasts, which were on Tuesday evenings. Two performances were given, one at 5:30 pm, for the east coast, and another at 8:30 pm for the west coast. Remember, transcribed programs were not being broadcast.
After the program was running for a while, Harry Einstein joined the cast with his "Parkyakarkus" character, usually referring to Al Jolson as "Joslin." Edmund Birch "Tiny" Ruffner was the announcer, and Victor Young was the orchestra conductor for the first two years of the program. He was replaced in June, 1938, by Lud Gluskin, and you can hear Jolie call him by name in some numbers extant from the show.
Although this program produced the greatest number of Jolson broadcasts, for a variety of reasons, the number of programs available as transcriptions has been very slim, with less than ten complete shows available. In 2006, the International Al Jolson Society is able to announce the availability of a new group of programs, previously not available, from these broadcasts. With guest stars including Mischa Auer through Zazu Pitts, Peter Lorre, Jackie Cooper, George Jessel, and others, and songs never before heard sung by Jolson, these shows belong in every Jolson collector's library.
Guests and Songs for the great shows:
VOLUME 1:
October 18, 1938 (Guests: Marie Wilson & Charles Butterworth)
'Confidentially'; 'Sweet Georgia Brown' (w/Martha Raye); 'When Day Is Done.'

November 1, 1938 (Guests: Gail Patrick & Gov. Al Smith)
'So Help Me'; 'Avalon.'
VOLUME 4:
December 13, 1938 (Guest: Fay Bainter)
'Waiting For the Robert E. Lee'; 'A Bird in A Gilded Cage'; 'Thanks For Everything.'

December 27, 1938 (Guest: Peter Lorre)
'Oh, You Beautiful Doll/You Must Have Been A Beautiful Baby'; 'I'm Forever Blowing Bubbles' (w/Martha Raye); 'We'll Never Know.'
VOLUME 2:
November 15, 1938 (Guests: Vera Zorina & The Merry Macs)
'California, Here I Come'; 'Spring Is Here'; 'Oh, What A Day That Will Be.'

November 22, 1938 (Guest: Mischa Auer)
'Liza'; 'I've Got Rhythm'(w/Martha Raye); 'Summertime.'
VOLUME 5:
January 3, 1939 (Guest: Mary Boland)
'At Sundown/My Blue Heaven'; 'Have You Forgotten So Soon?'

September 7, 1937 (Guest: George Jessel) (partial show)
'Love Is On the Air Tonight/Toot, Toot, Tootsie'; 'Give My Regards to Broadway' (w/George Jessel.)

October 25, 1938 (Guest: Kay Thompson) (partial show)
'At Long Last Love.'
VOLUME 3:
November 29, 1938 (Guest: Zasu Pitts)
'You Look Good To Me'; 'Blue Skies' (w/Martha Raye); 'My Heart Is Unemployed.'

December 6, 1938 (Guest: Jackie Cooper)
'Swanee'; 'Dig-A-Dig-A-Doo'(w/Martha Raye); 'They're Playing Ten Pins in the Sky.'
VOLUME 6 April 6, 1937:
"This Year's Crop of Kisses"; Jolson Career Medley featuring "My Gal Sal," "After the Ball," "Alexander's Ragtime Band," "Swanee," "California, Here I Come," "My Mammy."

September 28, 1937:
"Avalon," "Keep Smiling At Trouble " (w/Joe Penner.)
---
In addition, the International Al Jolson Society Audio Department offers this compilation of songs from the Lifebuoy programs:
| | |
| --- | --- |
| | IAJS DXA-176 Here is a unique collection of songs from the late 1930s, from Lifebouy Radio Programs, available nowhere else but on this International Al Jolson Society special CD. Tracks include: You Look Good To Me; Waiting For The Robert E. Lee; Ten Pins In The Sky; Digga Digga Doo; This Year's Kisses; Liza; My Heart Is Unemployed; Avalon; Thanks For The Memories; California, Here I Come; Summertime; At Sundown; My Blue Heaven; Have You Forgotten So Soon?; Oh, You Beautiful Doll; You Must Have Been A Beautiful Baby; At Long Last Love; Blue Skies; Swanee; I'm Forever Blowing Bubbles; Oh, What A Day That Will Be; So Help Me; Spring Is Here; I Got Rhythm; Thanks For Ev'rything; and We'll Never Know. Digitally cleaned, this CD contains twenty-six Jolson recordings that belong in every Jolson collection, some sung here for the only time. |
---
Order These Lifebuoy Programs You can use this page to order via PayPal via a secure server
Cat No

CD Title

Price each US$

Click to Purchase

IAJS 170
Lifebuoy Volume 1

$18

IAJS 171
Lifebuoy Volume 2

$18

IAJS 172
Lifebuoy Volume 3

$18

IAJS 173
Lifebuoy Volume 4

$18

IAJS 174
Lifebuoy Volume 5

$18

IAJS 175
Lifebuoy Volume 6

$18

---

IAJS DXA-176
Jolson on Lifebuoy

$16
---
---
These CDs may also be ordered by mail. Members of the IAJS are encouraged to check the Jolson Journal or Journalette for the latest items and direct member pricing information, as well as requesting a complete catalog of material available from the Audio Department. Many short titles are available, and are not listed on this website. Be sure to include a list of CDs desired, your name and address and check or money order for the full amount, to:
USA Orders

UK Orders

Debbie Eifler
4801 Roanoke Parkway
Apt 205
Kansas City, MO
64112

Kevin Roberts
21 St. Davids Road
Old Colwyn, Clwyd
LL29 9BH
Wales
---
---
If you came here from a link or search engine
Click here to return to the main page of this site
---
This listing and material Copyright © 1995-2011 Marc I. Leavey, M.D. Baltimore, Maryland
Updated 24 Nov 11