---

|The IAJS|Video Department
---
International Al Jolson Society
Video Department


By and large, every filmed Jolson appearance is available to members of the International Al Jolson Society from the Video Department at very reasonable prices. Thanks to the coming of the digital age, these features have been cleaned up and enhanced, and have been transferred to DVD for improved viewing. Members of the IAJS can contact the Video Department for these Jolson films on DVD:
---
The Singing Fool
Al Jolson's second film, this movie features Davey Lee, with the immortal song "Sonny Boy." The DVD includes a special extra, helping to introduce the movie.

Say It With Songs
Davey Lee made a comeback appearance in Al Jolson's third film, answering to "Little Pal."

Mammy
While we don't have the recently restored Technicolor sequences, the original trailer for this film is included on the DVD.

Big Boy
Al Jolson's only film played entirely in blackface, save the special ending, many feel that this film shows Jolson the closest to his stage performance.

Wonder Bar
Along with a young Dick Powell, this movie includes the controversial "Goin' To Heaven on a Mule" sequence. The original trailer is on the DVD as well.

Go Into Your Dance
The only movie Mr. and Mrs. Jolson made together, it is a delight as Al Jolson sings and Ruby Keeler dances. The original trailer is included on the DVD.

The Singing Kid
Al Jolson's great performance with costar Sybil Jason is not to be missed. This DVD includes the trailer for the movie, and the famous I Love To Sing-a cartoon featuring Owl Jolson.

Rose of Washington Square
Billed after Tyrone Power and Alice Faye, Al Jolson stole the show of this film based on the life of Fanny Brice. Never before available, included in this DVD are Jolson's deleted scenes, and alternate audio takes specially produced for this DVD.

Hollywood Cavalcade
Al Jolson appears in a cameo, but what a cameo, in this story about the birth of talkies.
Swanee River
With Al Jolson playing the legendary minstrel E.P.Christy, and Don Ameche as songwriter Stephen Foster, this film paints an affectionate, if fictionalized, biography of the composer of "Oh Susannah," "Camptown Races," and, of course, "Old Folks At Home," which provides the title for this movie, Swanee River.

Rhapsody in Blue
This film biography of George Gershwin, starring Robert Alda, is highlighted with the cameo of Al Jolson singing Gershwin's first, and greatest, hit, "Swanee." The DVD includes the original trailer, and even a cartoon!
---
The Video Department features this unique DVD of Al Jolson and his Rendezvous With History: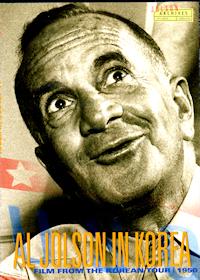 The International Al Jolson Society proudly presents, for the first time anywhere, a brand-new video of previously unknown, rare color footage of Al Jolson, filmed between September 13th and September 21st, 1950, during Al Jolson's historic rendezvous with history. See Jolson and some of the many diverse cultural sites of everyday life in occupied Japan. Travel with Jolson by air and thru the camera's lens, see the exact aerial view Jolson himself saw, and walk side by side with Al on the same battlefronts in South Korea.
This beautifully restored color footage was believed lost, and only recently was discovered in the depths of The Library of Congress. This film affords us a firsthand glimpse into Al Jolson's patriotic persona; as we see him chatting with General MacArthur's Field Commander, General Walton H. Walker, during his brief visit to his Pusan Headquarters. Watch Jolson chow down with GIs at the Korean front, and witness the genuine camaraderie between Al Jolson and his favorite audience — the American servicemen, as he signs autographs and regales his boys with amusing anecdotes.
In the autumn of his life, Al Jolson sang and clowned his way into the hearts of war-weary soldiers in a foreign land, and, in the process, into the annals of history.
---
The Video Department also has these special DVDs, edited and produced by your Jolson webmaster: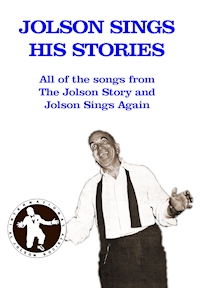 This DVD, produced for the members of the International Al Jolson Society, holds over an hour of musical memories, as it presents all of the songs from the two film biographies of the life of Al Jolson, The Jolson Story and Jolson Sings Again. Including the early songs from the film, performed by Rudy Wissler to the screen images of Scotty Beckett, as well as Larry Parks' masterful miming of the voice of Al Jolson for the major parts of the films, it also includes Virginia Rees singing for Evelyn Keyes and Cantor Saul Silverman voicing Ludwig Donath's Papa Yoelson. To complete the package, two songs cut from The Jolson Story are included as bonus tracks, "Cantor on the Sabbath" and "Sonny Boy."
---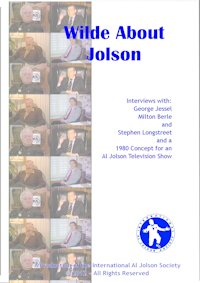 In 1980, comedian and author Larry Wilde had the idea for a television special about the World's Greatest Entertainer, Al Jolson. To research his project, he interviewed three men who were directly involved with Al Jolson. This DVD presents those interviews, along with a concept pitch for the program, featuring Mr. Wilde, himself.

The interviews are with George Jessel, whose career so intertwined with Jolson's through the years, Milton Berle, who looked up to Jolson throughout his life, and Stephen Longstreet, who penned much of the script for The Jolson Story. In addition, the concept presentation by Mr. Wilde for the television show that never was is also included.

At over 100 minutes of Jolson history, this DVD belongs in every Jolson fan's collection.

---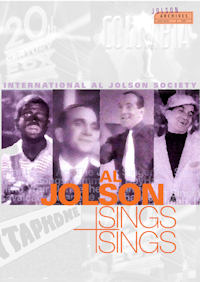 This extraordinary DVD is a beautiful compilation of every song performed by Al Jolson in every motion picture in which he appeared. With songs from A Plantation Act to the Jolson appearance with "Swanee" in The Jolson Story, this is almost three hours of The World's Greatest Entertainer singing his movie hits. A must have for Jolson collectors, this is also a great gift to highlight Jolson's film career.

Films included are: A Plantation Act, The Jazz Singer, The Singing Fool, Say It With Songs, Mammy, Big Boy, Wonder Bar, Go Into Your Dance, The Singing Kid, Rose of Washington Square, Hollywood Cavalcade, Swanee River, Rhapsody in Blue, and even Jolson's "Swanee" from The Jolson Story, presented as never before.

Each film can be played as a chapter, or the entire collection can be viewed continuously. Running time for the collection is two hours and forty-nine minutes. This DVD is offered exclusively by the International Al Jolson Society.

---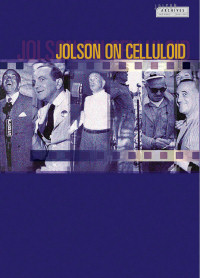 Within the tracks of this DVD, Jolson on Celluloid, are images of Al Jolson spanning almost forty years of his life. Including footage never before widely available to collectors, as well as videos specially prepared for this collection, it allows a unique view of an aspect of Al Jolson not seen in his feature film appearances.

There are clips of a young Al Jolson in front of an acoustic recording horn, and the mature man, billed as "The World's Greatest Entertainer," on his final tour before his favorite audience. Included are rare clips from battlefields during World War II and the Korean War, as well as several short films featuring Al Jolson.

Among the more than twenty segments are the Screen Test footage, shot by Jolson during the making of the film biography of his life, film of the Soldier Field program in Chicago during August, 1949, and home movies shot at the Jolsons' Encino home, featuring Al, Erle, Asa Jr., and Alicia.

There is also newsreel coverage of Al Jolson's funeral, as well as tributes done in his honor after his passing.

Each of these clips is presented in the best possible quality. While several of them were shot without sound, audio tracks have been added to suggest the flavor of the original program. Perhaps the best way to describe this DVD would be to paraphrase Jolson's famous catch phrase: Until you've watched this disc, you ain't seen nothin' yet!

---
On one DVD you can get two of the most significant Jolson Documentaries. The Hollywood and the Stars series from the early 1960s featured Joseph Cotton narrating the story of Jolson's life, told through film clips and story in an episode called "The Immortal Jolson." Although it took its title from the Pearl Sieben book, the information is part fact and part legend, folded into a half hour of black and white television from some 40 years ago.

Also included on the DVD is the British produced South Bank Show, which features Michael Freedland, who himself has written a Jolson biography, as narrator, and many more clips and legends. This show, which runs almost an hour, also includes interviews with Irving Caesar and others who knew Jolson and worked with him, as well as more modern stars who speak of their feelings for the man.

This DVD is certainly an important part of the Jolson history, and belongs in any Jolson fan's collection.

---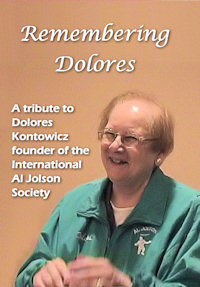 Shortly after the 2010 Jolson Festival in Milwaukee, Wisconsin, which marked the 60th anniversary of the passing of Al Jolson, Dolores Kontowicz, the founder of the International Al Jolson Society, passed away. This DVD, which runs a bit over a half hour, contains clips from the 2004 and 2006 Jolson Festivals, which highlighted Dolores, and included a line up of living Society Presidents, as well as the creation of the Dolores Kontowicz Presidential Award.

At the 2010 Festival, a special tribute was paid to Dolores, and this is included in its entirety, as well.

And, finally, a collection of family photos was presented at the memorial for Dolores, and these have been overlaid with a special Jolson audio track, including some rare and specially edited material.

This is a unique way to remember a singular individual; one without whom the International Al Jolson may not have been.

---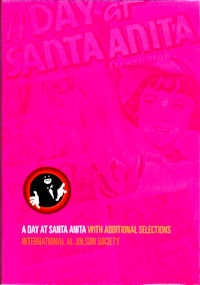 Another compilation of Jolson video clips from the archives of the International Al Jolson Society, edited and compiled by Marc Leavey, this DVD contains ten segments, featuring Al Jolson and some of those who knew and admired him.
· A Day At Santa Anita, 1937, starring Sybil Jason, cameo by Al Jolson and Ruby Keeler.
· Men of Destiny on Al Jolson, a man of the century
· The Voice of Hollywood, 1929, featuring Harry Jolson
· Harry Jolson singing "You Made Me Love You" on You Asked For It
· George Jessel singing "California Here I Come" and "If You Knew Susie"
· Al Jolson in Korea footage and audio tracks
· Jolson Sings As Seen On TV
· Clean Pastures cartoon
· Al J. Olson - Dogville short
With this collection, you really "ain't seen nothin' yet"!
---
---
Check with the Video Department for prices and availability of these, and even more, Jolson video items.
---
---
These tapes and DVDs may not be ordered over the web, they are only available to members of the IAJS by mail. Be sure to include a list of material desired, your name and address and check or money order for the full amount, to:
USA Orders

UK Orders

John Webster
754 Lincoln Avenue
Lake Bluff, IL
60044

Steve James
2, Woodfield Avenue
South Shore
BLACKPOOL
FY1 6AY
UK
---
---
---
If you came here from a link or search engine
Click here to return to the main page of this site
---
This listing and material Copyright © 1995-2015 Marc I. Leavey, M.D. Baltimore, Maryland
Updated 09 Jun 13
Updated 26 Oct 14
Updated 28 May 15