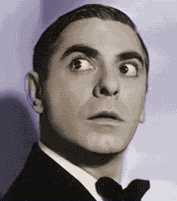 Comic actor and singer, Eddie Cantor, was born Isidore Itzkowitz in New York, January 31, 1892. Growing up on the Lower East Side of Manhattan he was reared by his maternal grandmother, Esther Kantrowitz, a warmhearted, giving woman who was responsible, inadvertently, for his eventual name and career. When the school registrar asked for the six-year-old's name, Esther, who spoke no English (only Yiddish, Polish, and Russian), became confused and started to give her own name, Kantrowitz, but never finished it. The registrar wrote down "Isidore Kanter." Later the boy himself changed the spelling to Cantor. Still later he changed the Isidore to Eddie because his girlfriend, Ida Tobias, later to become his wife, liked the name Eddie.

Along with other future stars, including Jimmy Durante, he started out as a singing waiter in Coney Island, singing hits of the day or just making up songs. After breaking into vaudeville, he soon became one of the luminaries of the Ziegfeld Follies and then starred in such hits as "Kid Boots" and "Whoopee." His unique style was easily captured on film, and for three years running he was #1 in popularity on the screen. Many other movies followed, and they remain a treasure to Cantor fans today.

His very successful radio career, where once again he was rated #1, led him, in the 50s, into yet another medium, where he starred on the highly praised Colgate Comedy Hour on television.

Because President Franklin Roosevelt was aware of Cantor's popularity and philanthropic efforts, he contacted him to head the effort at conquering polio, then called "infantile paralysis." Roosevelt wanted to contact a million men to donate $1 a year, but Cantor suggested taking it to the people and asking for a dime from each person, making it a march of dimes. (The most well known newsreel at the time was called "The March of Time.") That was the beginning of this famous charity.

One of Cantor's trademark songs, If You Knew Susie, was actually introduced by Al Jolson! Jolson's picture appears on the cover of early editions of the sheet music of Susie, but Al didn't think the song suited his style. After Cantor exploded with the song as such a hit, Jolson swore he'd never give Cantor another song! Listen to Eddie tell the story, in Real Audio!

Eddie and Al were friends for life. Here's Eddie's rendition of Waiting For The Robert E. Lee in which he gives quite a tribute to his friend, Al Jolson, the World's Greatest Entertainer.