---

|Friends & Links|Sybil Jason
---
---
Sybil Jason
Warner Brothers First Child Star
---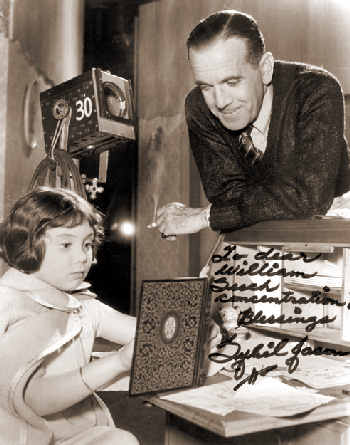 Sybil Jason and Al Jolson

Although she is forever endeared to us as the beautiful little girl who shared the screen with Al Jolson in the movie The Singing Kid, Sybil Jason's career spanned far more than her appearance with the World's Greatest Entertainer.

Born on November 23, 1929, in Capetown, South Africa, Sybil showed her musical talents at an early age, picking out tunes on the piano by age two, and soon appearing onstage doing her impressions of Mae West, Jimmy Durante, Maurice Chevalier, Greta Garbo, and others. Through the assistance of her uncle, Harry Jacobson, an accompanist to British star Gracie Fields, she came to England to meet Ms. Fields and Frances Day, another top performer.

Her exposure through their efforts led to a contract with Warner Brothers, as their only child star, and she soon commanded star billing in films including "Little Big Shot," "The Great O'Malley," "The Singing Kid," "I Found Stella Parrish," and others. Her co-stars included, besides Mr. Jolson, all of Warner's stars of the day, and she was even billed over Humphrey Bogart!

Not only a movie star, Sybil returned to her stage roots when Warners sent her out on personal appearance tours between film productions. Performing on stage was not enough, she would visit hospitals, orphanages, and other venues, often raising money for charitable events with her talents.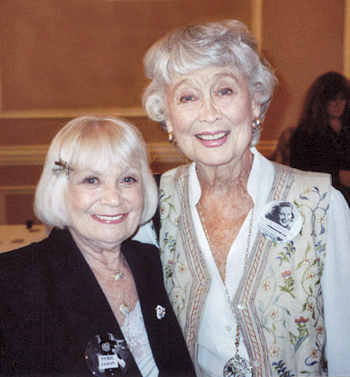 Sybil Jason and Betty Garrett (widow of Larry Parks)

After her contract with Warner Brothers expired, she went under contract to Fox, where she was cast with Shirley Temple in "The Little Princess." With other co-appearances, she remains friends with Ms. Temple to this day.

During her multi-faceted career she has been guarded by the real Elliot Ness, been Mayor of San Francisco for a minute, and met with President Franklin D. Roosevelt, who made her Honorary Secretary of State. Caught overseas in 1941 while on a worldwide tour, Sybil returned to the United States after the war, where she resumed her career. With her husband, Tony Drake, whom she met while playing Dorothy in a stage version of "The Wizard of Oz," she has a wonderful daughter, Toni, and a warm and loving family.

Sybil is an Honorary member of the International Al Jolson Society, and has a fan club of her own, the International Sybil Jason Fan Club. She has recently published her autobiography, My Fifteen Minutes, a must-read for those interested in show business.

---
As noted above, Sybil Jason co-starred with Al Jolson in the movie "The Singing Kid." Here is a wonderful clip from that movie, showing Sybil and Al singing "You're The Cure For What Ails Me."

Click to hear "You're The Cure For What Ails Me"
---
Sybil Jason passed from this world on August 23, 2011, remembered by the world as Warner Brother's first child star; but held as a dear friend to the members of the International Al Jolson Society. Click the photo at left to enjoy a special turn of a tune by Sybil, along with Mr. Tin Pan Alley, Richard Halpern, and remember her for the wonderful woman that she was.

---
Our friend and Jolson co-star, Sybil Jason, has written a wonderful autobiographical look at her life, entitled My Fifteen Minutes. With a look at her career starting as Warner Brothers first child star it provides an interesting view of the Hollywood of the era and how this talented young lady progressed. The longest chapter is devoted to Al Jolson, whose movie "The Singing Kid" provided a showcase for her talents. This is a must-read for Jolson fans, and those interested in the history of movies.

My Fifteen Minutes, by Sybil Jason, Bearmanor Media, 2005

---
---
If you came here from a link or search engine
Click here to return to the main page of this site
All material on this website Copyright © 1995-2011 : Marc I. Leavey, M.D., Stevenson, MD
ALL RIGHTS RESERVED Updated 20 Mar 05
Updated 04 Sep 11