---

|The Man|Biographies|From UK Jolson site
---
---
Al Jolson Biography originally from
the musical Jolson
A Biography of Al Jolson
Jolson the Entertainer
The Two Faces of Jolson
Jolson: Biography
The man we know as Al Jolson, was born Asa Yoelson in the 1880s. (There were no birth certificates in those days although the year is generally accepted to have been 1885. He chose May 26th as his birthday because he liked the idea of being born in spring). He emigated with his family from their native villlage of Srednik in Russian Lithuania and settled in Washington DC.

His beloved mother died when he was nine, an event which haunted him throughout the rest of his life, and he and his elder brother defied their cantor father and ran away from home to seek their fortunes on the fringes of show business.

From a post-earthquake appearance at the National Theatre, San Francisco, where he first coined the phrase "You ain't seen nothin' yet", he joined a minstrel troupe and quickly made his way up the showbiz ladder until he was signed by the powerful Shubert Brothers to appear in the revue at their newly built Winter Garden Theatre (March 1911). A series of starring vehicles: Sinbad, Bombo, Big Boy, often with Jolson as Gus, his black-face comic creation, set the seal on his reputation as Broadways most charismatic performer.

He also appeared in a string of Sunday Night concerts at the Winter Garden, because he considered that was the only way fellow showbiz people could see their 'master' at work.

In 1927 Jolson played the lead in the Jazz Singer, which had been a hit broadway show starring George Jessel who had hoped to get the role for himself, but Jolson was a sensation and the success of the first recognisable talkie saved Warner Bros. from bankruptcy.

A grateful Holllywood rushed him into The Singing Fool (1928)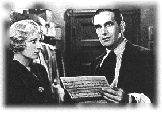 which was an even bigger box office hit - thanks to the million-selling recording of the lachrymose 'Sonny Boy'. This sentimental song was written by Jolson's frequent collaborators, Brown and Henderson as a joke. But they, like Jolson himself ended up crying all the way to the bank as the The Singing Fool grossed the enormous sum of $5.5m - only to be exceeded by Gone With The Wind, 11 years later.
In the 1930s Jolson may have been America's highest paid entertainer, earning $17,500 a week in 1932, but the decade brought him professional disappointment. The public grew tired of the formulaic films he was making at Warner Bros., and a radical change of tone to Hallelujah, I'm a Bum, for United Artists in 1933 failed to arrest the decline. He was even eclipsed by his third wife Ruby Keeler during her brief reign as Warner Bros. favorite ingenue.
His supporting roles in Rose of Washington Square (1939) and Swanee River (1940), a midly successful return to Broadway for Hold On To Your Hats (1940) and a brief cameo as himself in the Gershwin biopic Rhapsody in Blue (1944) seemed to accelerate the downward spiral.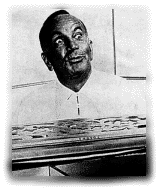 But in entertaining the troups as part of USO - United Service Organisations - Jolson recaptured his power to electrify and enchant an audience, and the runaway success of the 1946 film The Jolson Story where he supplied the singing voice to the acting of Larry Parks heralded a triumphant comeback.
He died of a heart attack in San Francisco on October 23 1950 ...
---
---
Jolson: The Entertainer
Al Jolson called himself The World's Greatest Entertainer - and no-one ever argued with him about it. That alone could set the man apart from most other showbusiness people. It seems the epitome of - to use a word that figured largely in his vocabulary - chuttzpah, but as Larry Adler who saw him at work told me, "He was not Lying when he made that claim. It was an established fact."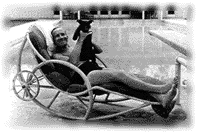 As Adler also said, "All sorts of people like Chaplin and Chevalier say they were influenced by Al Jolson, I was influenced by Al Jolson - and I only play a mouth organ." And it was true. Elvis Presley sang "Are You Lonesome Tonight" - and used precisely the same arrangement and speaking format as Jolson had done a decade earlier. Bing Crosby, Eddie Fisher and Franky Vaughan all said that Jolson was their principal influence. Tom Jones says his greatest ambition was always to star in a remake of The Jolson Story, the 1946 film which marked Al's comeback, and which led to his being voted, just before his death four years later, America's favorite male singer.
After Bing Cosby came Perry Como and a young upstart called Frank Sinatra. Sinatra was a guest at the same party at which Jolson had the entire guest list in the palm of his hand singing his favorite songs, like Rockabye Your Baby With A Dixie Melody, Swanee and April Showers. Someone asked the then young Blue Eyes to sing too. "I can't follow that," he said - and walked out.
That gives some idea of the man's domination of an audience. He did it for thousands on Broadway in the 1920s, and to just a handful in World War Two. He could spot a couple of lonely GIs on a street corner and tell them "My name's Jolson and I sing. Do you want to hear me?" They always did, and he always would, there and then.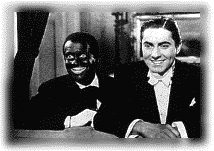 Well he knew they wanted to hear him. At the Winter Garden on Broadway, Al sold tickets at the box office - because he wanted to be sure that the customers wouldn't pass him by. If they asked where they were to be singing, he refused to let them in. "You see Jolson, you don't ask for special seats. Just to see him is enough" he said. And in a way he was right. Other entertainers played to audiences. Al Jolson made love to them - and it was always a two-way love affair. Three of his four wives sued him for divorce could easily have cited the audience as the 'other woman' in his life - for whatever he did on stage had the power of a momentary 'affair'.
When people saw Jolson on stage, it was an experience that they never forgot. Maurice Chevalier said that he went to see a Jolson performance and felt he "had to get back on the boat".
After all, what other entertainer would come into a theatre perhaps half an hour after the curtain should have gone up, walk down the centre of the auditorium with his hat and coat over his arm - and ask if they minded if he made up in front of them? More than that, as a gesture of apology, he handed out boxes of chocolates to the customers. "I hope you understand:" he said "I was having dinner in the restaurant around the corner and they had this swell piano player there, I got a little carried away. Please forgive me." They not only forgave him, they clapped, they cheered and they blew kisses.
They loved him for it. His talent was a commodity with which he was always totally generous. Once he went to the income tax office to settle his account - and ended up singing to the startled collectors. Other taxpayers in the room reported that they had never had more fun parting with their money.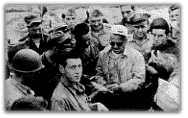 On Broadway, he was the first ever to earn $10,000 a week - and that was before the First World War, in which he was the first to entertain troops. He was the first to go overseas after the Japanese attacked Pearl Harbour and again the first to go to Korea, just a few weeks before his death.
In fact, Jolson was the first to do most things in showbiz. He was the first to take a show on the road, to have a runway slicing the auditorium from the stage to the back of the house, to appear on a flickering green image which turned out to be America's first TV broadcast - and then, when the first LPs were issued in Britain, a Jolson record was among them.
But the first for which he is best known, of course, was the Jazz Singer, when the screen first learned to talk. Yet he was never as happy in the movie studio as in the theatre, perhaps because he couldn't interrupt the cast of the film the way he could those playing in a live theatre.
Night after night, in the middle of a show, he'd stop the entire cast while in full flow, race to the footlights and ask the audience: "Do you want to see them - or do you want me?" He knew the answer. They always wanted him. That was why he could always tell them with confidence: "You ain't heard nothin' yet."
Michael Freedland is a biographer of Al Jolson.
The musical Jolson is based on his original idea.
---
---
The Two Faces of Jolson
Large scale musical biographies are often the most popular productions in both provincial and West End theatres, but there is one feature of "Jolson" which arouses the kind of interest and at times, fierce debate not generated by other shows. That is the practice of 'blacking up'. Although white people pretending to be black makes many people uneasy, any fact based story of Al Jolson's stormy career in the theatre and the cinema must show this aspect of his performances since it was a central part of his dramatic personality.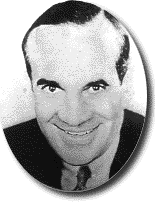 When talking about the reasons why white people 'blacked up', it is difficult to refer to hard facts; this is partly because it is such a sensitive issue and people seem to feel obliged to take one of two sides in the argument. 'Blacking up' is seen as being either merely a theatrical convention, or a racist insult. My interest in the matter stems from having had close links with the theatre and from being a keen student of black history and popular culture. The idea of 'blackface' is something which I find strange but fascinating since there is much more to it than either of those two sides suggest.
It is a sensitive issue because it is part of the long, hard, complex history of slavery and racial relations. Some people hace argued that blackface is a celebration of black musical performance and is not, therefore, insulting. The idea needs to be brought about alongside the accounts of the conditions under which North American blacks in the late nineteenth and early twentieth century lived, and the discrimination and violence they faced. In other words 'blacking up' is not the simple case of being either insulting and offensive, or a harmless honouring of black music. It is much more complex than that - and that is where the fascination lies.
It has been suggested that some black Americans did not object to 'blackface': indeed they even'blacked up' themselves. There is an element of truth in thsi last point but the historical background needs to be considered too. Following the American civil war (1861 - 1865), black Americans wanting to work in the entertainment world were forced to adopt the styles of performance which conformed to white people's expectations and ideas about how black people thought, felt, and behaved. These ideas about black people's lives did not match up with the reality of their experiences but many black performers adopted these styles in order to make a living and survive. It was common, therefore to see black performers in what were known as 'ethnic' theatres perform in 'blackface' for their white audiences., They would act the lazy, comic docile characters who shuffled, muttered and crooned in their quaint 'negro' language. Very few black performers would have been allowed to perform those roles as white people did. Certainly a real black male character would not have been allowed to touch a white woman or to show disrespect to his white masters, as did the 'blacked up' Al Jolson.
From the outset many people, both black and white, felt that putting on 'blackface' was a cruel send-up of black culture. However, to see it as simply insulting does not give the whole picture either. There may well be an element of celebration of black performance in the tradition, but perhaps it is tinged with an element of envy. This sense of envy surfaced publicly during the 1920s and 30s (sometimes known as the 'Jazz Age'). Many white people felt that mainstream white American culture was lacking in excitement and was too dependant on the European cultures on which is as based: one way of putting it was to say that there was not enough that was distinctively American. By contrast black culture, especially the music and the dancing, was seen as vibrant and exciting - often producing new crazes. At the same time though, many saw the blues and jazz music as something which was destructive and immoral. Here again there is a sense that white Americans were in two minds about how they felt about black people and their culture.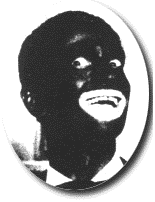 There are many reasons why the Al Jolson story continues to attract an audience: the rise from poverty, to fame and fortune, the romances and the conflicts are the aspects of his personal life which make for a rich and interesting biography. There is however, no easy answer to the question of why Jolson and so many other white performers thought they could get their message better acrosss by putting on burnt cork or boot polish, but it is not a question which should be simplified or ignored. To do so is to sweep an important detail of the development of popular culture under the carpet. And that is in nobody's interest.
Dr M Young
Lecturer, Writer and Critic


---
---
If you came here from a link or search engine
Click here to return to the main page of this site
All material on this website Copyright © 2001 : Marc I. Leavey, M.D., Stevenson, MD
ALL RIGHTS RESERVED