---

|The Man|Bibliography
---
---
Through the years, there have been several books written about Al Jolson, as well as books devoted to his movies or features and events in his environment.
---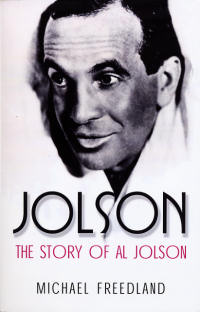 First published in 1972, Michael Freedland's biography of Al Jolson sees a new version published in May, 2007. While some may take issue with parts of the book as to their historical accuracy, that a new edition of this popular Jolson biography, at least the fourth time this book has been reprinted, bodes well for those researching the World's Greatest Entertainer. A great fan of Al Jolson, with both radio and television projects promoting Jolie's legacy, Freedland brings a warmth and affection to his work that helps captivate the new reader as well as the old fan. Clearly, this book belongs in the collection of all of us!

JOLSON The Story of Al Jolson, by Michael Freedland, Vallentine Mitchell, 2007

---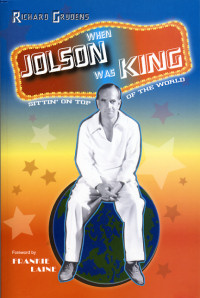 There have been several biographies written of Al Jolson, the World's Greatest Entertainer, but none has the point of view of Richard Grudens' new book. This 300 page text looks at various facets of Jolson's personality and fame, with sections devoted to Jolson's personal and professional history, and commentaries from those that knew and worked with him. Anyone interested in the first superstar, who was the first and only person to have two film biographies made of his life while he was alive, should add this book to their collection.

When Jolson Was King, by Richard Grudens, Celebrity Profiles Publishing, 2006

---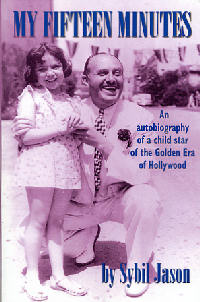 Our friend and Jolson co-star, Sybil Jason, has written a wonderful autobiographical look at her life, entitled My Fifteen Minutes. With a look at her career starting as Warner Brothers first child star it provides an interesting view of the Hollywood of the era and how this talented young lady progressed. The longest chapter is devoted to Al Jolson, whose movie "The Singing Kid" provided a showcase for her talents. This is a must-read for Jolson fans, and those interested in the history of movies.

My Fifteen Minutes, by Sybil Jason, Bearmanor Media, 2005

---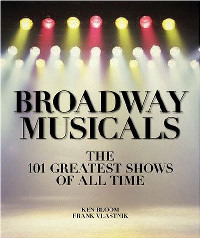 This book, written by Ken Bloom and Frank Vlastnik, covers the authors' picks for the 101 best Broadway Musicals. Along with plenty of great information, page 141 is devoted to Jolie, himself. Along with a great picture of Al in his last Broadway show, there is a wonderful tribute to The World's Greatest Entertainer. If you enjoy Broadway, this book is for you!

Broadway Musicals : The 101 Greatest Shows of All Time, by Ken Bloom and Frank Vlastnik, Black Dog & Leventhal Publishers, 2004

---
In October, 2004, the Public Broadcasting System presented a six part program entitled "Broadway - The American Musical." Covering the history of the Broadway musical from the early 20th century through the present, this is a fantastic production. Al Jolson is represented in the second installment; and the series is well worth having for any Broadway fan.
| | | | | |
| --- | --- | --- | --- | --- |
| DVD | VHS | Book | CD Box Set | Single CD |
| | | | | |
---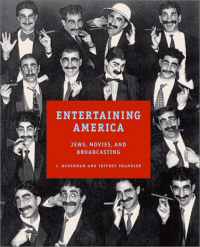 The Jewish Museum of New York has put together an exhibit, Entertaining America - Jews, Movies, and Broadcasting. This is the book from that exhibit. While the exhibit itself is touring the country, it won't get everywhere. Even if you have seen it, you will want this book. Along with extensive coverage of the beginnings of the entertainment industry through the present, Al Jolson figures prominently within its pages. About a sixth of the museum exhibit is devoted to The Jazz Singer, and that is also reflected in this book. There is also an excellent section on blackface, along with information on Jolson cohorts including Eddie Cantor, Fannie Brice, the Marx Brothers, and others. On your bookshelf or coffee table, this is a book to read and enjoy, as you learn about the entertainment industry.
Entertaining America, J. Hoberman and Jeffrey Shandler, Princeton University Press, 2003
Click here to purchase Entertaining America from Amazon.com

---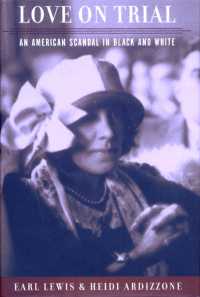 A modern Cinderella must defend her fairy-tale marriage in a scandal that rocked jazz-age America. Upon marrying Leonard Rhinelander in 1924, Alice Jones, a former nanny, became the first black woman to be listed in the Social Register as a member of one of New York's wealthiest families. When their marriage became a national scandal, Alice and Leonard found themselves thrust into the glare of public scrutiny--and into a Westchester courtroom. Earl Lewis and Heidi Ardizzone tell the story of the marriage and the annulment trial that opened the lives of two vastly different families to the media. Tracking the public obsession with the case, they unfold a fascinating story with a dramatic cast of characters. The World's Greatest Entertainer, Al Jolson, is called to the witness stand to testify, given his popular image in blackface. Would the jury believe Alice's claim that her husband had known she was of mixed racial ancestry before their marriage? Would Leonard's social status sway the verdict? How much ancestry made one black? Love on Trial recalls a struggle that raised questions about race and identity that continue to haunt us today. 40 b/w illustrations.
Love On Trial, by Earl Lewis and Heidi Ardizzone, W.W. Norton & Company, 2001
Click here to purchase Love On Trial from Amazon.com in Hardback.
Click here to purchase Love On Trial from Amazon.com in Paperback.

---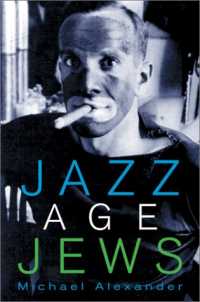 The stories of Al Jolson, Felix Frankfurter, and Arnold Rothstein are told together to explore the process or lack thereof of assimilation of American Jews in the first part of the twentieth century. All three Jews were born in the 1880s, grew up around American Jewish ghettos, married gentile women, entered the middle class, and rose to national fame. All three also became heroes to the American Jewish community for their association with events that galvanized the country and defined the Jazz Age. Rothstein allegedly fixed the 1919 World Series--an accusation this book disputes. Frankfurter defended the Italian anarchists Sacco and Vanzetti. Jolson brought jazz music to Hollywood for the first talking film, The Jazz Singer, and regularly impersonated African Americans in blackface. Each of these men represented a version of the American outsider, and American Jews celebrated them for it. Michael Alexander's gracefully written account challenges charges that anti-Semitism exclusively or even mostly explains Jews' feelings of marginality, while it calls for a general rethinking of positions that have assumed an immigrant quest for inclusion into the white American mainstream. Jazz Age Jews shows that most Jews felt culturally obliged to mark themselves as different--and believed that doing so made them both better Jews and better Americans.
Jazz Age Jews, by Michael Alexander, Princeton University Press, 2001
Click here to purchase Jazz Age Jews from Amazon.com

---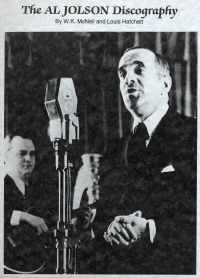 This 8.5 x 11 inch spiral bound book, printed in plain typewriter font, is a 2000 publication of the Joyce Record Club. Within its 260 pages is a short biography of Al Jolson, and a fairly complete listing of stage, screen, and radio appearances of the World's Greatest Entertainer. A full listing of Jolson recordings follows, which include labels and numbers for published recordings. A full index of songs allows one to find recordings by name. This is a useful book, if the information is not otherwise handy. It may be of limited availability, though.
The AL JOLSON Discography, by W.K. McNeil and Louis Hatchett, The Joyce Record Club, 2000


---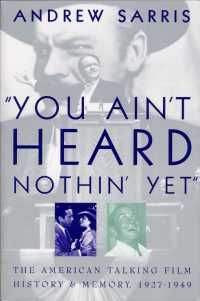 That's Jolson, himself, on the cover of Andrew Sarris' monumental history of the American talking film. Named a 1998 New York Times Notable Book of the Year, and a 1998 Los Angeles Times Best Nonfiction Book of the Year, film critic Sarris takes a sweeping look at the movies, and starts off where it all began, with The Jazz Singer. Giving a fairly balanced look at the industry of the time, and paying tribute to Jolson's talent, he seems sympathetic to the plight of Jolson material these days. Although Jolson's story plays only a small part in this book, it is good reading for the Jolson fan, and anyone interested in motion picture history.
You Ain't Heard Nothin' Yet, by Andrew Sarris, Oxford University Press, 1998


Use these links to purchase this book from Amazon.com in Hardcover or Softcover editions.

---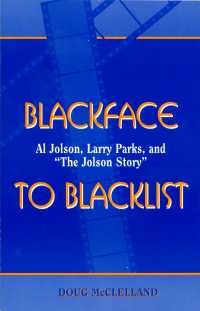 The stories of the conception and creation of The Jolson Story are legion. In this book, author Doug McClelland tells the whole story behind the story. Read about the folks behind the movie, and in front of the camera. The tragedy of Larry Parks, and his falling to the red-scare blacklisting of the 1950s forms the focal point of this fine book. There are chapters devoted to many of the movie's stars, and the relationship between Jolson and Parks. Many photos are included, with some rare behind-the-scenes views included as well. First published in hardcover, a softcover edition now available from several souces. This is a must have addition for the Jolson library.
Blackface To Blacklist, by Doug McClelland, Scarecrow Press, 1998
Click here to purchase Blackface to Blacklist from Amazon.com

---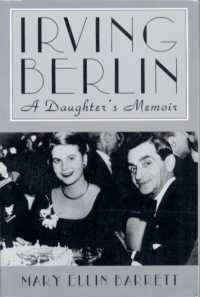 Although not written about Al Jolson, this loving biography of the author's father paints a clear and human portrait of the man who was central to American music. There are several mentions and anecdotes regarding the interaction of Al Jolson and Irving Berlin; but, more than that, this book adds a new dimension to a man many regard as a legend. Along with the paperback version, there is even an audio tape version of the author reading the book. Consider adding this to your bookshelf collection.
Irving Berlin - A Daughter's Memoir, by Mary Ellen Barrett, Limelight Editions, 1996
Use this link to purchase this book from Amazon.com in Paperback
Use this link to purchase this book from Amazon.com as Audio Tape

---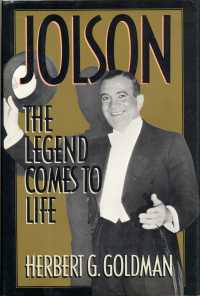 In an exquisitely authoritative, nearly 400 page tome, Herbert G. Goldman has given us a detailed look at the life and times of Al Jolson. From his opening sentence of, "Al Jolson was a Jew, probably the first man of his faith well known as a Jew and idolized by the American public," Goldman gives a full and critical view to the man and the legend. It is Goldman who recounts stories of Jolson's boyhood, and stories of Jolson's relationships with a variety of other performers, from Eddie Cantor to Eubie Blake. As if the comprehensive scope of this text is not enough, the book is capped off with a detailed listing of stage and screen performances of Al Jolson, complete with venues and cast lists. This book gives the truth behind many of the legends passed off as fact, even the ones that Jolson told! You must have this book in your library.
Jolson: The Legend Comes To Life, by Herbert G. Goldman, Oxford University Press, 1988

---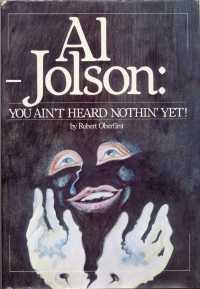 Robert Oberfirst takes a chronological look at the life of Al Jolson, in more than three hundred pages of insight. With an acknowledgement to Harry Jolson, whose writings and papers provided some of the background for this book, Oberfirst digs beneath the surface to explore some of the possible motivations and influences that shaped Al Jolson. Not always complementary, the book allows one to appreciate the complexity that produced this singular entertainer.
Al Jolson: You Ain't Heard Nothin' Yet, by Robert Oberfirst, A.S.Barnes & Co., Inc., 1980


---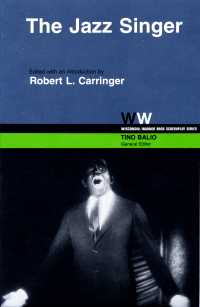 On the night of October 6, 1927, the motion picture was forever changed, as Al Jolson brought sound to the screen, and we ain't heard nothin' but since. This book, published in 1979 by the University of Wisconsin, tells the full story of Al Jolson's first feature film. It includes the original story, "The Day of Atonement," which became the basis for the Broadway play. Rare photos of George Jessel on stage, as well as Jolson stills from the film are included. There is even material about the Danny Thomas remake in 1952, but not the Neil Diamond version, since this book came out before that movie was produced. A full screenplay script is included, and notes about Vitaphone and the movie round out a wonderful book. Although out of print, it is often available on the used market, and Amazon.com does have a link to purchase it. If you want to know all there is to know about The Jazz Singer, you will want a copy of this book.
The Jazz Singer, edited by Robert L. Carringer, University of Wisconsin Press, 1979
Click here to purchase The Jazz Singer from Amazon.com

---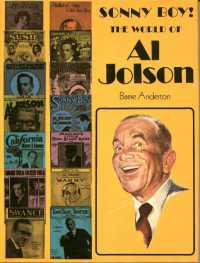 Published in England in 1975, Barrie Anderton's book Sonny Boy! The World of Al Jolson is a loving tribute to a lengendary entertainer. Filled with photos not seen elsewhere, it is based on personal interviews and research done by the author. Although not an extensive biography, it does give a general overview of The World's Greatest Entertainer, and is fairly accurate in its representations. In just 106 pages, many of which are full page photos, it hits the high points, and a few low ones, of Jolson's career. After the biographical text, the book reprints a part of George Jessel's eulogy to Jolson, as well as tributes written by Eddie Cantor and Larry Parks. There is an alphabetical listing of Jolson recordings, who knew there was only one release that started with "U"? And finally, a listing of Jolson films, from The Jazz Singer through The Jolson Story, with a still photo, credit list, and a brief plot summary. This book is long out of print, but a worthy addition to the Jolson library if a volume can be found.
Sonny Boy!, by Barrie Anderton, Jupiter Books, 1975

---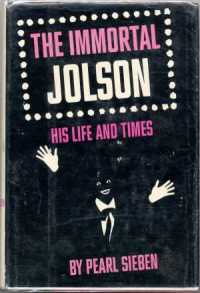 Among Jolson biographers, Pearl Sieben was one who had the advantage of meeting Al Jolson, and her biography of the singer, published in 1962, reflects the esteem she held for him. This lovingly crafted book perpetuates some of the stories about Jolie which have attained near mythical status, while it fills in the basic biographical information. Some of the later biographies have provided different views of Jolson's life, but this remains a good basic biography of The World's Greatest Entertainer.
The Immortal Jolson, by Pearl Sieben, Frederick Fell, Inc., 1962

---
Although this book is available in reprint form, it is a poor quality duplicate of the PDF file, which you can see below, for free. Be advised if you wish to order this version, that it is not the original book.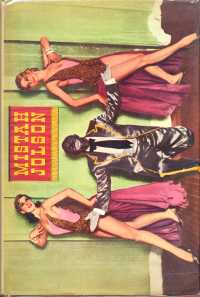 That's Harry Jolson, not Al, kneeling on one knee on the cover of Mistah Jolson, a 1951 autobiography written by Al Jolson's brother, Harry. Although the book is really the story of the author's life and adventures, he takes the opportunity to tell plenty of stories and start a few legends about the man we call "The World's Greatest Entertainer." In fact, many of the "facts" other books quote had their start in this volume. It's a wonderful book, with the kind of inside view only a brother could have; and it does much to dispel the feeling that a great animosity existed between Al and his family. With photos and text, this is a wonderful, if rare, addition to any Jolson library.
Mistah Jolson, by Harry Jolson, House-Warven Publishers, 1951

Click here to read the book online from the Online Open Library!

Click here to download the book in PDF or text format from the Internet Archive!

---
---
If you came here from a link or search engine
Click here to return to the main page of this site
This listing and material Copyright © 2007 Marc I. Leavey, M.D. Baltimore, Maryland
Updated 16 Dec 07