---

|The Man|Jolson's Legacy|Memorials to Jolson|Al Jolson Way
---
---
Al Jolson died on October 23, 1950 in San Francisco and was interred in the Hillside Memorial Park Cemetery in Culver City, California. On the day he died, Broadway turned off its lights for 10 minutes to honor the passing of its greatest star. Until August 11, 2006, there could be found no statue, plaque or even SIGN anywhere in New York honoring Jolson, his talents, or his immeasurable contributions to the Broadway stage. This is the story of Al Jolson Way, the recognition that took almost 56 years to happen.
---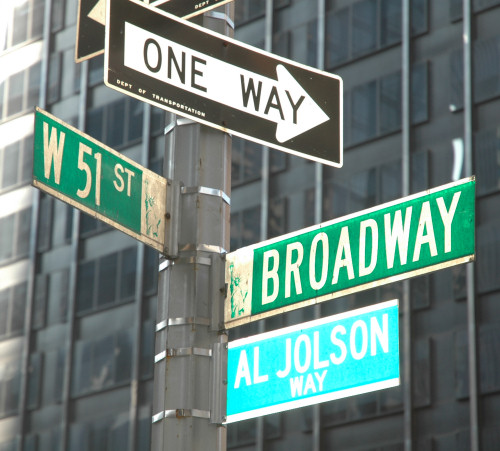 AL JOLSON WAY at the corner of
Broadway and 51st Street
---
In 1997, Eric Mahr, a Jolson fan who had just discovered the International Al Jolson Society, was visiting New York City on a trip from his home in Israel, when he walked by both the Winter Garden and the site of Jolson's 59th Street Theatre. He was amazed that Broadway, the street that Jolson owned, had no sign or other recognition of him. Eric commented that he had even seen street signs dedicated to people of whom he had never heard! He contacted Bruce Wexler, then the President of the IAJS with his idea, to name the section of Broadway in front of the Winter Garden as "Al Jolson Way."

Bruce researched the process, and found that the first step was to contact the Local Community Board. These boards, made up of residents of the area, in this case the west side of Manhattan from about 34th Street up to 50th, have the initial decision as to whether something like this can go forward.

With the name of the appropriate member of the board secured, he wrote a letter indicating the scope of Jolson's fame on Broadway, the financial impact of Jolson's productions on the area, and the fact that Jolson's estate still benefits several charities in New York City. Mortimer Felsinger, the late attorney who handled the Jolson estate, prepared a letter on his firm's letterhead, indicating the names of all the charities. As Jolson's Will stipulated, this included Columbia University, NYU, City College of NY, and others.

In September 1997, Bruce was invited to a meeting at which a vote was to be taken on the proposal for Al Jolson Way. The idea was that the one block of Broadway between 50th and 51st Street, the east side of which was the entrance to The Winter Garden, would be renamed Al Jolson Way. Along with Bruce Wexler at that meeting of Local Community Board Five were Jan Hernstat, Steve Hanks, Bob Daniels, and several other interested individuals.

When the meeting started, the person presiding over the meeting said, "Well, it's quite obvious the most important item we have to attend to tonight is Al Jolson Way." He was being sarcastic, referring to the number of people that were there to speak. Nonetheless, after all the Jolson supporters voiced their opinions, the proposal passed unanimously.

Despite this quick action by the Local Community Board, there was no further movement on the proposal. No information was provided to Bruce as to what had happened following the positive vote, and the matter seemed to be a dead issue.

Al Jolson's legacy and impact on they city, though, was hardly forgotten in the Big Apple. In 1999, the New York Post began a series of articles on famous New Yorkers, and the first one was entitled Hot Cats - Al Jolson. The interest was there, but the action lacking.

With no further action evident, the issue seemed to be stone cold. After several years, avenues of communication were again opened when, in early 2004, Professor Joe Ciolino, a regular contributor on the website forum, contacted Kathy Kinsella, the Chair of Community Board Five, which had originally approved the measure unanimously. She reported that the measure was shot down in the vote of the City Council. Ms. Kinsella pointed out that of the thousands (her words) of such requests only a handful are passed. However, she did suggest that the matter need not be a dead one. It was suggested that the new Council Member, Christine Quinn, be contacted for follow-up. Professor Joe urged letters be written to both Ms. Quinn and Mayor Bloomberg, supporting the action.

Later that year, with no response in evidence, Professor Ciolino wrote a letter in support of the action from his perspective as an educator at New York University and New School University. This powerful letter detailed Al Jolson's accomplishments, and dealt with the potentially more controversial issues of the nomination. It was so significant that it was quoted in the official legislation that ultimately created Al Jolson Way.

In March, 2005, after a year of effort, Professor Joe related the response from Ms. Quinn, that although Al Jolson Way was not dead, it had been recently been voted down. She suggested continued advocacy to the Community Board for its passage.

Two months later, in May, 2005, Katherine Hepburn Place was created to honor the film star. We noted the event on the website forum, and another round of letters was sent off to the City Council and Mayor. Nothing seemed to happen.

Then, in February, 2006, New York dedicated Peter Jennings Way, in honor of the Canadian born newscaster who died the previous August. The announcement of that dedication sparked a renewed interest in Al Jolson Way. A series of empassioned exchanges on the Jolson Forum encouraged everyone to write to the New York City Council in support of the proposal. Interest in Al Jolson Way could not have been higher.

And then, on March 1, 2006, Jan Hernstat, now President of the IAJS, announced that he was invited to a Pre-St. Patrick's Day luncheon, to take place on March 16, 2006, with Christine Quinn as guest speaker. The President of the City Council agreed to introduce Ms. Quinn to Jan, so that he could speak with her directly.

After a short meeting with Ms. Quinn, during which Jan reviewed why Al Jolson should be so honored, she was given a copy of the letter that Professor Joe had written some years before. More information was faxed to her legislative coordinator, and the hopes were high for success.

Just a week later, an Email was received as follows:

My name is Fredy H. Kaplan, and I am the counsel for the New York City Council's Committee on Parks and Recreation. It is this Committee's responsibility to handle all street renaming in the City. After researching the issue, we found that the request for the street rename for Mr. Jolson was approved back in 1998, but for some reason was filed in 1999. My only speculation was that there may have been some council members who were against this particular street renaming. Regardless, rest assured that we are including "Al Jolson Way" for this spring's street renaming legislation on May 3, 2006, and I am sure it will pass the full council this time.

Should you have any questions, please feel free to contact me at anytime.

Yours,

Fredy H. Kaplan
Counsel for Committee on Parks and Recreation
New York City Council
With this encouraging news, more letters and Emails were written by the members of the Society to the New York City Council in support of the matter. The mood was cautiously optimistic.
And then on May 23, 2006, here is the story in Jan's words: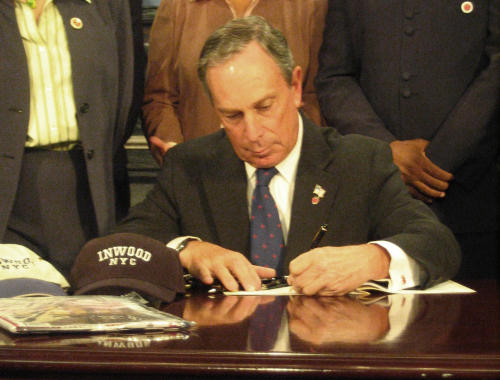 Just to give you the blow by blow. I went to City Hall. Mayor Bloomberg read off all the street renamings, and what a thrill to hear him say the words "Al Jolson Way" in Manhattan. He then asked if anyone would like to speak. You all know that I am kind of shy, but I did chose to speak. I basically said that we all know Al Jolson as a great entertainer from Broadway, and in the first Talking movie (The Jazz Singer), but he was much, much more. He entertained the troops in four wars, and he paid his own way to entertain in Korea. I went on to say that Al Jolson was as much a casualty of the Korean conflict as any fighting man. (I borrowed that line!) I then thanked Mayor Bloomberg, Christine Quinn, and all the other council members. All and all it was a very satisfying day !!!
On August 11, 2006, a crowd gathered at the corner of Broadway and 51st Street, in front of the Winter Garden Theatre that Al Jolson loved so dearly, to dedicate the sign marking that connection. Ed Greenbaum was at the ceremony, and described it as follows:
Albert Jolson

A very large crowd attended the ceremony, hosted by Bruce Wexler (who did a great job putting it all together) and Society President Jam Hernstat.

Special guests of honor included Albert Jolson, who flew up from Nashville to participate in the ceremony honoring his father's name. It was wonderful to see Albert there, and the letter he wrote that was read to all attending was a touching tribute to his father, his mother and all the fans who have kept Jolie's memory alive.

Joe Franklin was there, a Jolson booster on radio and TV. Joe interviewed Jolson in the late '40s and has fond memories of Al. Herb Goldman, author of the definitive biography of Jolson was introduced and spoke about Jolson's legacy. Professor Joe Ciolino, so instrumental in making "Al Jolson Way" a reality was eloquent, as usual.

Tony Babino

Tony Babino, our "Tony B." started things off with a rousing rendition of "Is It True What They Say About Dixie?" which never sounded better (the huge speakers provided as the sound system blasted Tony's voice up and down Broadway!) Tony returned later in the program to do "April Showers" and "Robert E. Lee" as only Tony can---he was just sensational.

Representatives of the USO were there to honor Jolie's war time work as were members of the Veterans of Foreign Wars.

Bruce Wexler

When the big moment came--the actual unveiling of the street sign (which had been covered throughout the ceremony) by Albert Jolson, it was a photographer's dream.

There were many members of the Jolson family there--Hesselsons, Yoelsons and others--and they seemed particularly happy to be with us.

Society members from Germany, England and Scotland were there, too.

The ceremony lasted over 50 minutes, and when it was over most of us just stood around for an extra few moments to look at the sign post on Broadway, just a few yards from the Winter Garden Theater.

AL JOLSON WAY--there for all to see, forever.
Accolades to the World's Greatest Entertainer came from all quarters, including this message from Mayor Michael Bloomberg, who signed this action into law.
George M. Cohan may have written it, but Al Jolson said it, and sang it, the best:
"Give My Regards to Broadway!"
---
Watch these video clips of the event!
| | |
| --- | --- |
| | Click the screen at left to hear radio personality Joe Franklin address the crowd at the dedication of Al Jolson Way with his personal Al Jolson memories. |
| | |
| --- | --- |
| | Click the screen at left to hear Jan Hernstat, President of the International Al Jolson Society, read a greeting to the crowd from the Honorable Michael Bloomberg, Mayor of New York City. |
| | |
| --- | --- |
| | Click the screen at left to hear Tony Babino sing Al Jolson's classic "April Showers" to the assembled crowd. |
| | |
| --- | --- |
| | Click the screen at left to see and hear Tony Babino sing Al Jolson's "Is It True What They Say About Dixie?" Ain't that pretty! |
| | |
| --- | --- |
| | Click the screen at left to see Albert Jolson pull the cord to unveil the sign proclaiming the corner of Broadway and 51st Street to be Al Jolson Way! |
---
If you came here from a link or search engine
Click here to return to the main page of this site
This listing and material Copyright © 2006 Marc I. Leavey, M.D. Baltimore, Maryland
Updated 05 Nov 06