---

|The Man|Jolson's Legacy|Memorials to Jolson|Footprints at Grauman's Chinese
---
---
A walk in front of the former Grauman's Chinese Theatre in Hollywood, which opened just before Al Jolson starred in The Jazz Singer, is mystical for all the footprints preserved there. Here is a look at how Jolie's knee prints joined the display, narrated by Al Jolson, himself, on March 12, 1936. Click on the photo to see the clip.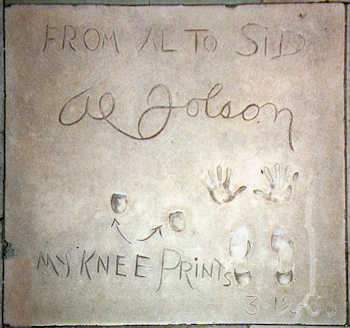 This clip is part of a short included in Jolson on Celluloid, a video available through the International Al Jolson Video Department.

For more about Grauman's Chinese Theatre, you may visit the Official Website.
---
If you came here from a link or search engine
Click here to return to the main page of this site
This listing and material Copyright © 1995-2017 Marc I. Leavey, M.D. Baltimore, Maryland
Updated 09 Mar 08
Updated 08 Mar 15
Updated 06 Mar 16
Updated 12 Mar 17