---

|The Man|Jolson's Legacy|Memorials to Jolson|Palm Restaurant
---
---
How hard it is to establish a memorial to Al Jolson? Just read this story, sent in by David Miller, about one of his experiences. A dinner, an observation, and Al Jolson is remembered for all to see.
---
Susie and I attended a retirement dinner for her brother. The event was held at The Palm Restaurant, 1100 S Flower, downtown Los Angeles, in their private dining room.

The Palm's flagship restaurant, located at the famous address of 837 Second Avenue, New York, is still in its original 1926 location. The walls are covered with vivid colorful history. It would almost be certain that Al Jolson would have frequented this fine eating establishment.

Back to The Palm in Los Angeles. On the wall in the private dining room, much to my surprise, was a picture of At Jolson's 1933 Cadillac Phaeton, but no reference to Jolie. We had been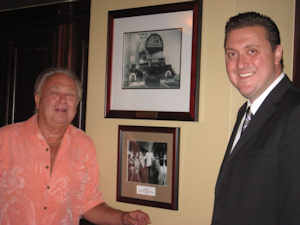 introduced to the General Manager, Aaron Kirkman when we arrived, so I wasted no time in giving him my IAJS business card, and explained to him to whom that car had belonged. I told him the story that two years ago I had seen the car at Harrahs in Reno, and was able to have the Society become the sponsor. I then asked if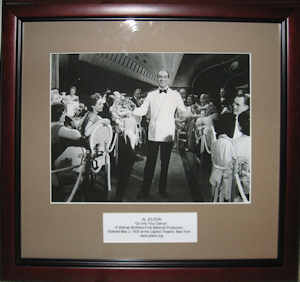 I could put a brass plaque on the frame with Al Jolson's name and a little history about the car. I also said it would be nice to have another picture showing AI Jolson and the Society's web site. The picture I chose was Al in the movie Go Into Your Dance.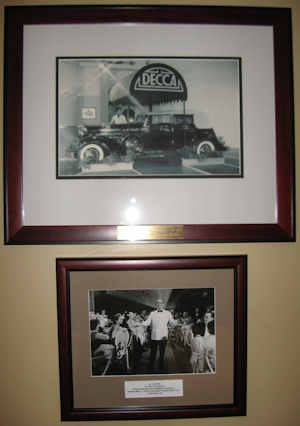 He agreed, and on June 14, 2010, Susie and I made a spot for Al Jolson to look down at the patrons enjoying a great meal in the private dining room of The Palm in Los Angeles Califonia.
David Miller
Publicity Director IAJS
So there you have it. David and Susie saw an opportunity, and acted on it, with the result of a great photo of Al Jolson, credited with the International Al Jolson Society, being placed in a prominent place of interest. Keep your eyes open, you never know when a similar situation will present itself!
Epilogue
---
| | |
| --- | --- |
| | On May 18, 2011, David and Susie Miller went to New York City, where they visited The Palm's Second Avenue location. They presented two photographs for presentation to Al Serpagli, General Manager of The Palm. With one showing the marquee of the Warner Theatre in New York promoting the opening of The Jazz Singer, and the other of Al Jolson in Go Into Your Dance, which opened at New York's Capitol Theatre on May 2, 1935, they will be displayed at a restaurant where Jolie surely dined! |
---
If you came here from a link or search engine
Click here to return to the main page of this site
This listing and material Copyright © 1995-2011 Marc I. Leavey, M.D. Baltimore, Maryland
Updated 24 Nov 11