---

|The Man|Jolson's Legacy|Memorials to Jolson|Postage Stamp
---
---
Forty-four years after his death, the United States Postal Service acknowledged the contribution of Al Jolson by issuing a postage stamp in his honor. Part of a series devoted to great singers, this is the story of the Jolson stamp, and how it came to be.
---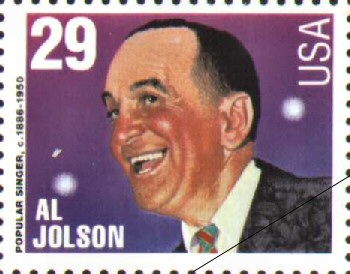 STAMPED WITH IMMORTALITY
Reprinted from Jolson Journal 81 - Fall 1994 - by Stephen Hanks

Jolie would have kvel1ed!

On September 1, 1994, Al Jolson finally received the recognition his fans in the Jolson Society and around the world thought long overdue -- his face on a United States postage stamp.

With his fourth wife, Erle Jolson Krasna, (and about 600-700 others) in attendance on the kind of beautiful summer day Jolie might have sung about, the new 29-cent Jolson stamp was unveiled at a noon ceremony at Damrosch Park in New York City's Lincoln Center. The Jolson stamp was one of a new series honoring popular American singers. Stamps of legendary performers Bing Crosby, Nat "King" Cole, Ethel Merman, and Ethel Waters were also released as part of the series.

Actor-singer Ben Vereen served as master of ceremonies and kicked off the proceedings by reading a brief bio of Jolson as a three-piece orchestra slowly and softly played "California, Here I Come" and "April Showers" in the background. Unfornately, Vereen did not exactly master his job as MC, referring to Al as "Ah-Sa," and butchering the pronunciation of "Yoelson," which elicited moans and groans from the nine Jolson Society members in the first two rows of the audience.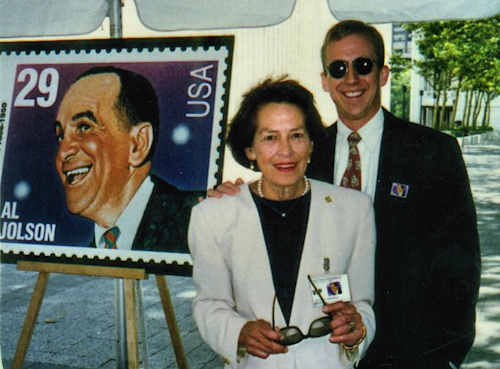 Erle Krasna and her nephew Glen Rock
at the New York ceremony

But the mood of the Jolsonaires perked up considerably when Al's widow, Erle, was called up to unveil her late husband's stamp. Looking trim and attractive in a beige suit over a navy-blue blouse and wearing a white pearl necklace and sunglasses, the 70-year-old Mrs. Jolson pulled the cord which revealed a poster-sized replica of a stamp featuring a handsome Jolie circa 1930s. Then Erle sat down to hear the Brooklyn Youth Chorus serenade the crowd with an adorable version of "Baby Face."

"Al really loved his country," Erie said after the ceremony "so he would have been incredibly proud of this honor." And there is no doubt that what every living Jolson fan feels about the stamp is incredible pride in their one and only Jolie.

---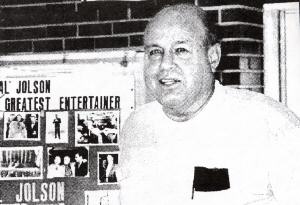 LOCAL MAN'S QUEST ATTAINED AFTER 14 YRS.

Reprinted from Jolson Journal 83 - Fall 1995

For Fred Parcells, the process started in August of 1980.

It was 14 years ago that Parcells, a dedicated and longtime Al Jolson fan, began collecting signatures on a petition that would hopefully get results from the Citizens Stamp Advisory Committee in Washington, D.C., to honor the late entertainer. "I was honest and sincere with people when I was collecting the signatures," said Parcells, a resident of Honey Brook (Pennsylvania). "I just wanted to get a stamp in his name."

Parcells and other fans can now celebrate as the Postal Service debuted a stamp of Jolson on Thursday, September 1 (1994), along with other great names in the entertainment business such as Nat King Cole, Ethel Waters and Bing Crosby.

The group of stamps, entitled "The Popular Singers," is part of the Postal Service's Legends of American Music Series.

Issuing a stamp commemorating the great entertainer may have to do with the effort of Parcells, who through the years collected over 50,000 signatures himself.

A member of the International Al Jolson Society, an organization dedicated to preserving the entertainer's memory, Parcells and other members began collecting names, hoping to have Jolson honored with a stamp in 1986 commemorating his 100th birthday.

"We thought it would be a nice thing to honor him for his birthday," said Harry Rhinehart, a resident of Elverson (Pennsylvania) and member of the society. "We started to collect signatures, but Fred stuck with it through the years."

After many rejections from the stamp advisory board, members of the fan club began to give up.

However, Parcells stuck with the petition and the process of collecting signatures. Wherever he went, (he) took the petition with him.

"A11 activities ceased outside of Fred collecting the signatures," Rhinehart said.

"Any place I went, weddings, gas stations, shopping with my wife, I took the petition," Parcells said. "I ran into people who told me they signed the petition last year."

The International Al Jolson Society has approximately 1,000 members worldwide, with most of its members from England and the east and west coasts of the United States. The organization began in 1950, with Jolson an original member, and claims to be the "longest running continuous fan club in existence."

Both local members agreed that the entertainer's history and talent is why he deserves to be honored on a stamp.

"Jolson truly deserves a stamp," said Rhinehart, who was president of the international organization from 1981-1988. "He is a great American patriot. He was the biggest star in the entertaining field from 1911 to 1931.

"We honor flowers, birds, and buildings on stamps, so why not a great entertainer. He was the first big entertainer to go overseas in World War II."

Parcells said he first heard Jolson, who died in 1950, sing while he was serving in WWII.

"He had a tremendous voice, and he sang like he meant what he said," said Parcells, a retired mason who now drives a school bus.

"The mystique of the Jolson voice is captured in most society members," Rhinehart said. "For some reason, there is just something about the sincerity of it."

Parcells said he didn't want to stop collecting signatures, and now, since the society's dream is coming true, it's hard to realize.

"I didn't want to give up," he said. "I met a lot of nice people that I have to give credit to."

The society gave up on the feat, Rhinehart said, but Parcells continued.

"We received letters from the board saying they had no interest in putting Jolson on a stamp," Rhinehart said. "To be honest, the ciub kind of gave up."

Parcells first heard that Jolson would be honored on a stamp in December (1993), and this long-time fan was ecstatic about the news.

"It's hard to believe it has come to pass," he said. "I've been wanting this for quite awhile."

Fourteen years to be exact.
---
At the 1995 convention in Philadelphia, Fred Parcells was given a special Presidential Award, and also an award of merit for his persistent efforts concerning the Al Jolson Stamp.
---
---
If you came here from a link or search engine
Click here to return to the main page of this site
This listing and material Copyright © 2004-2009 Marc I. Leavey, M.D. Baltimore, Maryland
Updated 11 Jul 04
Updated 15 Apr 09