---

|The Man|Jolson's Legacy|Passing of the Jazz Singer|Gravesite
---
---
During his lifetime, he was known as the "World's Greatest Entertainer," and now his remains repose in a beautiful memorial near Los Angeles, California. Here is the story of that site, and some views of the structure.
---
After Al Jolson's death, on October 23, 1950, his funeral was held at Temple Israel on October 26. An estimated twenty thousand people converged on the Temple for the rites. The public was allowed to file past his bier following the coffin's arrival at 9:00 am. After two hours, more than 2000 people had stepped up to pay their respects.

With 1500 in attendance, George Jessel delivered his eulogy to Al Jolson. Rabbi Max Nussbaum offered his words as well. Following the ceremony, Al Jolson was laid to rest in the Beth Olam Cemetary later in the day, at a private ceremony attended only by his widow Erle, his son Asa, Jr., his brother Harry Jolson accompanied by his second wife, Sylvia, and Rabbi Nussbaum.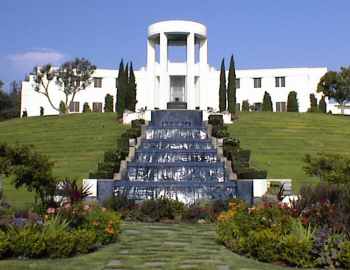 Overview of Hillside Cemetary Site

Several months after Jolson's death, his widow was determined to provide a monument to Jolie that would also serve as his final resting place. Erle secured a site at Hillside Memorial Park, and had a design drawn up for the memorial.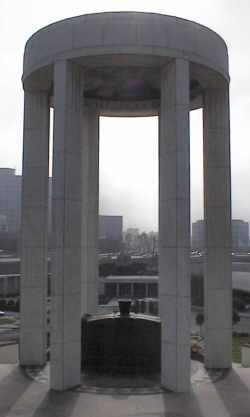 Six-pillar marble tower

The monument designed for the site was a six pillar marble structure, topped with a dome. The inside of the dome was decorated with a mosaic, and the phrase used at his funeral, "The Sweet Singer of Israel, The Man Raised On High" was engraved on the inside rim of the dome.

The design was by Paul Williams, a prominent Los Angeles black architect, and cost some $75,000.

In addition, the Hillside management provided a 120 foot cascade of water dropping into a pool, in accordance with Al having told Erle that he's like to be buried near a waterfall.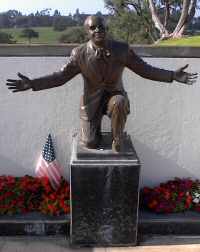 Jolson Statue

To complete the site, a three-quarter life size statue of Al Jolson, arms outstretched and on bended knee, was placed near the grave.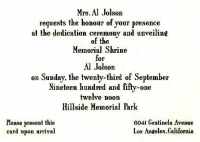 Invitation to Jolson Memorial Unveiling

Al Jolson was reinterred at Hillside on September 23, 1951, just eleven months after his death. A short ceremony was held, with Jack Benny delivering the stirring eulogy for his friend.

Al Jolson, born Asa Yoelson, son of a Rabbi, grandson of a Cantor, and the World's Greatest Entertainer, was at peace.
---
---
If you came here from a link or search engine
Click here to return to the main page of this site
This listing and material Copyright © 2003 Marc I. Leavey, M.D. Baltimore, Maryland
Updated 30 Nov 03