---

|The Man|Jolson's Legacy|Tribute Programs|Marv Freeman|21 Oct 00 Program
---
---
There is no doubt that Al Jolson's influence on the entertainment industry, and the world, was unique. Never before, and not since, has there been such as talent as the man who first billed himself as "The World's Greatest Entertainer," and was never challenged on the point. After his death, there has been an endless succession of tribute shows to this singular personality. This is one of that series.
---
As a tribute on the 50th anniversary of the passing of Al Jolson, Marv Freeman produced a wonderful tribute to the World's Greatest Entertainer, airing in the Phoenix, Arizona, area. Here is the text of an article in the Jewish News of Greater Phoenix, from October 13, 2000, describing the program. Click the link at the bottom of the page to listen to this half hour program.

Phoenix man pays tribute to
'world's greatest entertainer'


Leisah Namm
Staff Writer

orn the son of an Orthodox rabbi and cantor in the shtetel of Srednik in Russian Lithuania, Asa Yoelson rose out of poverty to become the "world's greatest entertainer," Al Jolson.

As a tribute to the performer's music and life, Valley resident Marvin Freeman is producing, writing and narrating "Jolson Lives," a 30-minute radio tribute to be aired ll:02 a.m. Saturday, Oct. 21, and Sunday, Oct. 22, on KSAZ-AM 580.

The show commemorates Jolson on the 50th anniversary of his death on Oct. 23, 1950.

"The best way to salute Jolson is to hear him, to let him sing," Freeman says, "so the bulk of the program is Jolson singing."

From 1911 to 1950, Jolson recorded more than 200 recordings on four labels and starred on Broadway.

His songs include "Toot, Toot, Tootsie," "California, Here I Come," "Sonny Boy" and "April Showers."

The radio tribute will also feature duets with stars such as Bing Crosby, The Andrews Sisters, Dinah Shore, Eddie Cantor and Judy Garland — many whom were guests on his radio show.

From 1927 to 1939, Jolson starred or had a major role in 11 motion pictures including "The Jazz Singer," in 1927, which was based on his life.

Freeman says he has been a Jolson fan for at least 55 years and that he "fell in love with the Jolson voice, the Jolson persona" when he was a "very, very young man."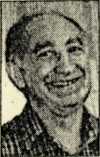 Marvin
Freeman

"Certainly he was agiant in entertainment," Freeman says, "but I would bring up the fact that he felt very, very deeply about helping people. A lot of people at the time that he was alive didn't realize the depth of his feelings toward his fellow men and women because he really didn't make it known."

Jolson entertained troops at home and abroad during World War II and the Korean War and "believed very strongly in tikkun olam," perfecting the world and making it a better place, Freeman says.

Jolson bequeathed $2 million dollars to Jewish, Catholic and Protestant charities, including the Free Synagogue Child Adoption Committee, Federation for the Support of Jewish Philanthropic Societies, and Home for Aged and Infirm Hebrews of New York.

Freeman points out that Jolson "was a pioneer in many ways," including being the first performer to sell 1 million records. Jolson also served as an inspiration for many performers — "people like Bing Crosby and Frank Sinatra idolized Al Jolson," Freeman says.

"Today's performers are affected by what Jolson brought to the stage and to the screen and to entertainment and general," he says.

In preparation for his radio show, Freeman asked the International Jolson Society to do a survey of its membership to determine the age groups of its members.

"Al Jolson has given me and millions of others great joy and in the 50 years since his passing, his spirit and his talent are alive and well," Freeman says.

This Saturday, Oct. 14, Jolson will also be remembered in Palm Springs, Calif., where a star will be dedicated on The Walk of Stars in his honor.

To learn more about Jolson's life and music, visit www.jolson.org.

Freeman is the owner of the public relations firm Marvin M. Freeman Creative Services and he and his wife, Pearl, are members of Beth El Congregation in Phoenix and have two sons and four grandchildren.

Since the family's move to Phoenix in 1976, Freeman has been active in the community. He is a founding member of the Public Relations Society of America, was a member of the Phoenix Chamber of Commerce Ambassadors' Committee, and has received several professional and community service awards.

Freeman currently serves on the board of the Laynor Foundation Museum, a nonprofit organization celebrating art through education, and on the board of the Arizona Jewish Theatre Company.


Listen to this wonderful program through the courtesy of radio station KSAZ AM 580, covering Arizona, just as it was originally broadcast over most of the state of Arizona, including Phoenix and Tuscon. This program was produced, written, and narrated by Marvin Freeman. It may not be copied or distributed without express permission of the copyright holders.

Listen to this week's program
in Real Audio format


Use this link to get
the Real Audio Player
---
If you came here from a link or search engine
Click here to return to the main page of this site
---
This listing and material Copyright © 2004 Marc I. Leavey, M.D. Baltimore, Maryland
Updated 18 Jan 04