---

|The Man|Jolson's Legacy|Tribute Programs|Walter Winchell Tribute
---
---
---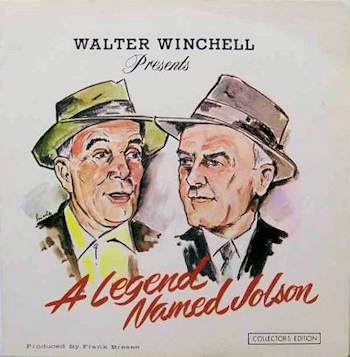 "Good evening Mr. and Mrs. America from border to border and coast to coast and all the ships at sea." It was the voice of Walter Winchell, the famed broadcaster and sometimes cohort of Al Jolson, narrating an Al Jolson tribute penned by Frank Bresee, in 1971. Released in a limited edition albume, many may not have heard this affectionate tribute to the World's Greatest Entertainer by this singer, who started out onstage with Eddie Cantor and George Jessel, turned newsman, columnist, and broadcaster.
We thank Irving Yavitz for providing us with a copy of this recording for use on the website.
Click to hear Walter Winchell and "A Legend Named Jolson."
---
---

Use this link to get
the Real Audio Player
---
If you came here from a link or search engine
Click here to return to the main page of this site
---
This listing and material Copyright © 1995-2012 Marc I. Leavey, M.D. Baltimore, Maryland
Updated 03 Jun 12