Chapter 1:
Hot Cats
Al Jolson
By JAY MAEDER
Daily News Staff Writer
<!—START STORY - CHANGE DROPCAP LETTER—>

ven as Al Jolson's triumphant comeback as a radio star was wowing everybody in the late '30s, one still usually spoke of the old duck in the past tense. "He was to popular show business what Dempsey was to the ring or Babe Ruth to baseball," wrote New York Daily News columnist Ed Sullivan in February 1938, respectfully enough, to be sure, but there it was: "Was." Jolson had announced his retirement a half-dozen times already, grumbling about the youngsters and how the whole world had changed. But always he came back, again and again, because that's what troupers did when they could no longer bear the silences.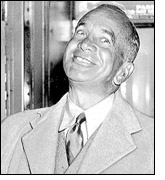 He was only in his early 50s. But he was old as the hills. The thing about Al Jolson was that he had always been an old-timer, as long as anybody could remember. His career went back to the Spanish-American War; by the time "The Jazz Singer" revolutionized moving pictures in 1927 with its single scratchy line of dialogue, the biggest of Broadway stars was already on his way to relicdom as a new generation of silky-voiced crooners came along to displace such ancient rafters-shaking shouters as himself. In his day, a man had to belt out a song just to make himself heard over the San Francisco Earthquake. These modern kids, Jolson sneered, they had to hang microphones on their tonsils.
For all that, the fact remained that he was an old-timer. "Once you slip," he had reflected once, "the descent is swift, and nothing can stop you."
He'd said that years earlier, back in 1931, backstage at the Winter Garden, and he hadn't had a show since.
But hadn't he been the hot cats once upon a time. He was born Asa Yoelson, son of a sixth-generation Russian cantor whose heart he broke when he kept running away to the bright lights of the New World; as a kid he sang for coins on the sidewalks of New York, and as a young man he toured for years with blackface vaudeville acts, and he was a seasoned professional minstrel by the time he got back to the city in 1911 and J.J. Shubert put him into a show called "La Belle Paree" at the new Winter Garden.
There at the Garden he headlined for years — in "Honeymoon Express" and "Dancing Around," in "Robinson Crusoe Jr." and in "Sinbad"; by 1922 he was the greatest star of the vaudeville stage, America's most popular entertainer, and his new show, "Bombo," was playing in a 59th St. theater that bore his own name. All the nation sang his songs, mawkish, sentimental, heart-wrenching things that he fell to one knee to sob out as whole rooms sniffled and bawled. By 1924 he was making a new hit record every two weeks.
And then Hollywood called.
Later it would be popularly imagined that "The Jazz Singer," a treacly little tale of a cantor's son who broke his father's heart when he kept running away to the bright lights, was Jolson's life story. It wasn't — George Jessel had starred as Jackie Rabinowitz for two seasons on Broadway, and in fact Warner Bros. offered Jessel the film version first and he turned it down — but it might as well have been. In October 1927, when "The Jazz Singer" premiered at the Warners' Theatre in New York, Jolson was in the audience and tears were streaming down his face as he watched himself sing Kol Nidre, the Hebrew prayer of atonement.
Signing now with the Warners for a series of speakies, Jolson made "The Singing Fool" — another tearjerker, the story of a driven entertainer who insisted upon going on with the show even as his small son lay dying — and its signature tune, "Sonny Boy," became the first American record to sell 3 million copies. In September 1928, two days after the picture opened, Jolson married Ruby Keeler, a 19-year-old dancer he had wooed away from a Broadway torpedo, and they sailed for Europe. On their return a month later, the newlyweds gave up New York and settled in California. And in January 1929, Jolson announced his retirement from the stage.
But he couldn't stay away from Broadway. After making a few more pictures, he opened in "Wonder Bar" at the Bayes Theater in March 1931, his first show since "Big Boy" in 1925. "It was wonderful to see an audience again," he told reporters. "The old applause has been missing. I like to hear it again." There were indeed tremendous ovations, for a while, but then it became plain that the old slide-trombone voice wasn't there anymore, and the star quit the show after a couple of months and retired again. He had one more picture to make, he announced, and after that he'd spend his days at the track like a gentleman.
But this picture, released in February 1933, was Ben Hecht's "Hallelujah, I'm a Bum," which was successful enough that he was persuaded to sign on for a few more, including "Go Into Your Dance," co-starring his wife, who was frankly a bigger draw than he was at this point. Jolson was a surprise radio hit by now, regularly a guest on the network variety hours, but his Hollywood star was fading fast. Late in 1939, his marriage to Ruby Keeler ended and he came back East. In September 1940, he tried one last show, "Hold on to Your Hat" at the Shubert; after a few months, pleading illness, he quit this one, too.
He was 55 now. He had no career left. All he had in front of him was the war, whose front lines he toured for a couple of years, singing for the soldiers, until he came down deathly sick. Flat on his back in a field hospital in the Far East, he overheard a nurse report that his temperature was 103. This brightened him considerably, and he sat up. "What's the record?" he inquired.
After the war, entertainment columnist Sidney Skolsky produced a film version of Al Jolson's life, "The Jolson Story," and Jolson himself sang all the old favorites — "Mammy," "Sonny Boy," "April Showers," "Avalon," "Carolina in the Morning," "Toot Toot Tootsie" — as actor Larry Parks lip-synched. The picture was a huge hit, and suddenly the old-timer had a new generation of fans — teenagers, for heaven's sake, unimaginably all rushing out to buy his records and sniff, as the Herald-Tribune put it, "the faint lavender odor of old times." Astonishingly, he was a recording star again. He was back on the radio, taking over the "Kraft Music Hall" after Bing Crosby's departure from that venerable institution. He was back on top.
All this lasted for just a couple of years. Late in 1948 he retired one more time. Producer Mike Todd tried to get him to do a nostalgia show at the Winter Garden, reprising his old triumphs, but he said no. He had seen too many old-timers trying to re-create their golden days, he said, "like old chunks of Camembert cheese. That's not for me." And out he went again, for good.
And then back he came yet again, and this time it killed him. In September 1950 he persuaded President Harry Truman to let him go sing for the troops in Korea — "Oh, well, I can't get a job on radio or television," he joked to reporters — and the tour was grueling. On Monday night the 23rd of October, just back from the war zone, set to tape a segment of Crosby's radio program the next day, he was playing gin rummy with a couple of pals in a San Francisco hotel room when his trouper's heart suddenly stopped beating. "Well, this looks like the end," he said, and then the curtain fell.
Three years later, Danny Thomas remade "The Jazz Singer," and critics marveled that such a hoary, hokey, wheezing, whiskered story could ever have entertained anyone, even in a time long ago and a place far away.
<!—END STORY—>

Please tell us what you think about this series.