---

|His Works|Radio|22 May 50 Lux Jolson Sings Again
---
---
The Lux Radio Theatre presentation of
Jolson Sings Again
---
After the success of the second motion picture biography of Al Jolson, Jolson Sings Again, it was only natural for the Lux Radio Theatre, which had, in previous years presented both The Jazz Singer and The Jolson Story, to adapt this latest motion picture to radio.

The program, broadcast on Monday, May 22, 1950, brought together stars from the original film, Barbara Hale, William Demarest, and Ludwig Donath, playing wife Ellen Jolson, Steve Martin, and Papa Jolson. Joing them, replacing Larry Parks in the movie, was Al Jolson, himself.

The one hour radio program closely follows the movie plot, with narration summarizing parts of the movie, and condensing the action. About the only thing they couldn't do was have Mr. Jolson meet Mr. Parks on camera.

News reports said that people started to line up at 2 p.m. for the six o'clock broadcast, and they were treated to a wonderful show. Rather than list all of the songs in the broadcast, suffice it to say that all of the major numbers of the film are there, and Jolson was in fine voice.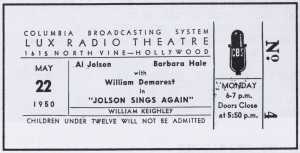 This program was the last regular radio performance of Al Jolson. After this, he made a few short guest appearances and interviews, but nothing of the scope of this full program. Just five months after this broadcast, having returned from a trip to Korea to entertain his favorite audience, those in uniform, Al Jolson passed away on October 23, 1950.
So sit back for about an hour, and enjoy this wonderful broadcast, as Jolson Sings Again!
Click here to listen to the
Lux Theatre presentation
of Jolson Sings Again
in Real Audio format
---

Use this link to get
the Real Audio Player
---
Sincere thanks to Irving Yavitz for providing a beautiful copy of this broadcast for the website.
---
---
If you came here from a link or search engine
Click here to return to the main page of this site
---
This listing and material Copyright © 1995-2012 Marc I. Leavey, M.D. Baltimore, Maryland
Updated 25 May 08
Updated 30 May 10
Updated 22 May 11
Updated 09 Dec 12