---

|Now Showing|Memorializers|Bugs Bunny
---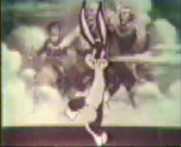 In 1942, the United States had entered World War II, and the whole country was gearing up for the war effort. Central to this was the raising of funds by the sale of War Bonds and Stamps. Here is a cartoon, released in 1942, called Leon Schlesinger Presents Bugs Bunny. Directed by Robert Clampett, with animation by Virgil Ross, Bob McKimson, and Rod Scribmer, this short "trailer" cartoon had Bugs Bunny singing the Irving Berlin Song, "Any Bonds Today?" During the second chorus of the song, Bugs dons blackface and does a Jolson impression, calling to his Uncle Sammy.
In a recent televised retrospective of cartoons, this particular work was omitted, presumably due to the blackfaced Bugs. But since it was the making of The Jazz Singer by Al Jolson, including its blackface numbers, that saved Warner Brothers and enabled countless young and old to enjoy the antics of Bugs Bunny, Bugs' use of Jolie's device seems most appropriate, and appreciated.
Click on Bugs Bunny's picture, or on the text link below, to view
Bugs Bunny singing Any Bonds Today?
---
If you came here from a link or search engine
Click here to return to the main page of this site
This listing and material Copyright © 2001 Marc I. Leavey, M.D. Baltimore, Maryland
Updated 25 Jun 01