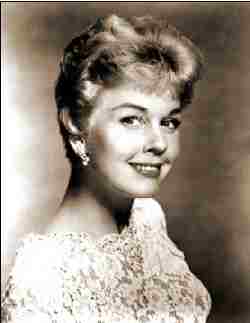 Born Doris Mary Ann Von Kappelhoff in Evanston, OH, Doris Day's childhood dreams of becoming a ballerina were dashed after being involved in a near-fatal car crash, Her mother suggesed refining her skills as a vocalist, and she was soon discovered by a vocal coach who arranged an appearance on local radio station WLW.

Soon after her radio appearance, Day was approached by local bandleader Barney Rapp, who suggested that her name was a little long for the theater's marquee. Auditioning with the song "Day By Day," it became the inspiration for her new name. Discovered by bandleader Les Brown, her collaboration with his band led to her first hit song, "Sentimental Journey."

Day's contribution to film began with her appearance in Warner Bros.' romantic musical Romance on the High Seas (1948). The film, in which she co-starred with Jack Carson, was recognized with an Oscar nomination for the song "It's Magic," providing young Day with her first success as a pop singer. Throughout the 1950s, Day's wholesome image sustained her film career with successful turns in musicals (Calamity Jane [1953]) and romantic comedies (Teacher's Pet [1958]). Day's successful film career continued well into the 1960s with highlights including Alfred Hitchcock's The Man Who Knew Too Much (1956), The Pajama Game (1957), and Pillow Talk (1959). The latter is considered among the best of the Doris Day/Rock Hudson comedies, with her image as the innocently alluring virgin breathing new life into her previously wholesome persona.

In April of 1968, just as she was beginning five-year contract with CBS for The Doris Day Show, Day's film career came to an abrupt end with the death of her husband/manager/producer Marty Melcher. Left penniless and deep in debt through a series of Melcher's sordid investments, Day soon bounced back. Awarded a 22-million-dollar settlement, Day found success in television with The Doris Day Show. Her future television ventures, including Doris Day Today (1975) and Doris Day's Best Friends (1985) (which included one of the last appearances of a gravely ill Rock Hudson) were just a few examples of Day's enthusiastic and enduring nature. In 1975 Doris Day authored her biography, Doris Day: Her Own Story, which became a number one best-seller. Day went on to become an active and vocal supporter of animal rights, focusing the majority of her attentions on her Animal League and Animal Foundation organizations, as well as owning the pet-friendly Cypress Inn in Carmel, CA.