---

|On Stage|Memorializers|David Lee
---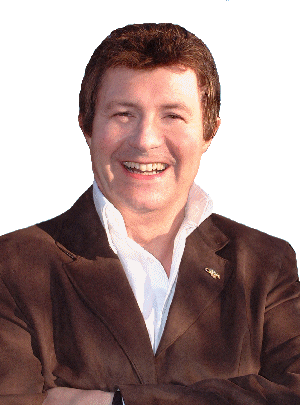 With over thirty years experience in professional showbusiness, Bradford-born David does not come from a theatrical family. His father was a builder and his mother worked in a woollen mill.

Only five years old, David first tasted applause when taken to a show on the South Pier, and responded to a request for children who could perform. His unique interpretation of a popular song was met with the wonderful sound of applause, and David knew there could be no other vocation for him in life other than the stage.

Regular visits to the Bradford Alhambra pantomimes further fuelled David's enthusiasm and, on the advice of his headmaster, his mother started taking him to the Gainsborough Stage School in Bradford. It was here that he first discovered the songs of the man dubbed "The World's Greatest Entertainer", and started performing them in stage school productions and for family gatherings. The first Jolie song he sang was "Rock-A-Bye Your Baby With A Dixie Melody," and it remains his favourite. Spotted by an agent, David was offered work in the local clubs where he appeared to great critical acclaim. These early days were followed by many appearances in summer season, pantomime and national tours playing the great Al.

In 1968 David was also honoured to be asked to take over for an entertainer billed as Al Jolson Jnr when he had to return to the United States at short notice.

In 1986, after a period spent more in production of pantomimes than entertaining, he presented JOLSON (The First 100 Years) the Official UK Centenary Tribute to the World's Greatest Entertainer at the Piccadilly Theatre in London's West End starring Clive Baldwin and the Special Guest Appearance of the Original Sonny Boy, Davey Lee. Davey unveiled a Bronze Bust of Jolie which since that date has been on display at the theatre. He acknowledges greatly the help and guidance in preparing the production from his late dear friend and Past Vice President of the IAJS, the late Terry Quigley.

The night was a great success with many showbusiness dignitaries were present including representatives from Andrew Lloyd Webber's Really Useful Group and UK legendary agent Billy Marsh. The President of the United States was represented by it's UK Embassy's Officer for Public Affairs.

Eleven years ago David was honoured by being elected to that most prestigious showbusiness fraternity The Grand Order of Water Rats; a showbiz charitable organisation which was created over one hundred years ago and which is similar to the Friars Club of America. Past members have included; Charlie Chaplin, Laurel & Hardy, Howard Keel and Bob Hope.

In 1992 he appeared as Al Jolson singing 'Swanee' with a 60 piece orchestra for a special Three Day Event in Cannes. Then in 1998 following many requests, David came out of performance retirement to appear as Al Jolson in a biopic musical he had both written and composed the original song content for back in 1986 when he had presented the Centennial at the Piccadilly Theatre in London. The show entitled; "You Ain't Heard Nothin' Yet" saw its World Premier at the Octagon Theatre in Yeovil, Somerset. A compact disc of the songs from the show together with original songs 'His Name Was Jolson' and the song Jolie sings to win the heart of Ruby Keeler – 'You Danced & Stole Away My Heart' is still available. Ruby was played by his business partner, choreographer and Fiancée Rita Proctor

With over one hundred compositions in his portfolio, today David continues to compose for his pantomime company Pantoni Pantomimes. Recently he collaborated on a song for Cinderella with Andrew Rumble, (who also appeared as Harry Akst in the aforementioned production and was Barry Manilow's UK Musical Director for 'Copa Cabana') are now revising the lyrics to bring it into the commercial arena and place before major recording artists.

David insists his stage tribute to AL was never meant to be an impersonation, merely his sincere tribute to the greatest showbusiness inspiration of his own career. As he says; "There can only ever be ONE AL JOLSON".
---
Click here to hear David Lee sing "His Name Was Jolson"
Click here to hear David Lee sing "I'm Sitting On Top Of The World"
---
---
If you came here from a link or search engine
Click here to return to the main page of this site
This listing and material Copyright © 2005 Marc I. Leavey, M.D. Baltimore, Maryland
Updated 21 Aug 05