---

|On Stage|Memorializers|Dean Martin
---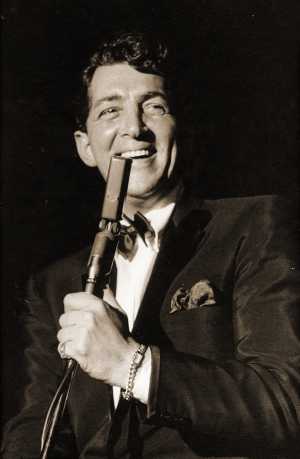 Singer, actor, comedian and Rat Pack member best remembered for his partnership with Jerry Lewis and his inebriated stage persona. Born Dino Crocetti in Steubenville, Ohio, Dean Martin's singing career began when in 1940, when his friends encouraged him to get up on stage at a popular nightclub and sing a few numbers. His smooth voice impressed bandleader Ernie McKay, who offered him a job on the spot as featured vocalist. A few months later, he signed with Cleveland bandleader Sammy Walker.

In 1943, he moved to New York and soon went out on the road. While working in Atlantic City in 1946, he accidentally partnered with Jerry Lewis. They soon became the hottest act in town. Their popularity grew as they performed across the country and on radio and television. In 1948, they were signed to Capitol Records. In 1949, they made their first in a string of hit movies, My Friend Irma.

The partnership lasted until 1956, when the two went their separate ways. Dean's film career suffered without Lewis at first, but it soon got off the ground with 1958's The Young Lions. He went on to star in several successful films, including a string of Westerns, the Matt Helm spy series, and the 1970 blockbuster Airport.

Dean's solo recording career got off to a slow start. It wasn't until 1953 that he broke into the Top Ten, with the Italian-style novelty tune ''That's Amore.'' In 1955, Dean hit number one for the first time with ''Memories Are Made of This.'' In 1962, Dean left Capitol for Frank Sinatra's Reprise Records. His 1964 recording of ''Everybody Loves Somebody'' became the first song to knock the Beatles out of the number one spot. In 1965, he began hosting his own weekly variety show on NBC. The program was one of the top-rated shows during its nine-year run.

During the late seventies and eighties, he concentrated his career on Las Vegas. In 1987, he joined a Rat Pack reunion tour with Frank Sinatra and Sammy Davis, Jr. but soon withdrew due to health problems. In 1993, it was reported that Dean had lung cancer. He died on Christmas Day in 1995.
---
With a loosened bow tie and seemingly effortless ability to put over a song, Dean Martin's style has certainly been compared to Al Jolson's over the years. Throughout his career he sang several songs identified with the World's Greatest Entertainer. Enjoy these Martin versions of Jolson songs:



Click to listen to Dean Martin sing "Toot, Toot, Tootsie"
Click to listen to Dean Martin sing "You Made Me Love You"




| | |
| --- | --- |
| | Click the image at left to see and hear Dean Martin sing "Ma Blushin' Rosie." |
| | Click the image at left to see and hear Dean Martin sing "Back In Your Own Backyard." |
| | Click the image at left to see and hear Dean Martin sing "Baby Face." |
---
If you came here from a link or search engine
Click here to return to the main page of this site
This listing and material Copyright © 2007 Marc I. Leavey, M.D. Baltimore, Maryland
Updated 22 Apr 07