---

|On Stage|Memorializers|Everly Brothers
---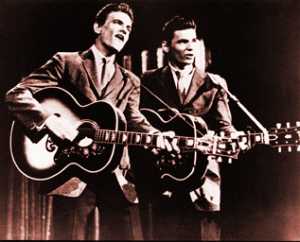 With beautiful close two-part harmonies, the Everly Brothers were among the most important early Rock and Roll stars, and infused the genre with some of the best elements of country and pop music. The harmonies of the Beatles, Simon and Garfunkel, and others owe a tip of the hat to these brothers.

Don Everly, born in 1937, and Phil, born in 1939, learned their craft at an early age from their father, an accomplished guitarist. After some false starts, their song "Bye Bye Love" rocketed up the charts in 1957, and gave them an audience. That song was followed by a string of hit singles, including "Wake Up Little Susie," "All I Have To Do Is Dream," and others, which continued for a phenomenal three years.

In a move reminscent of Jolson's saving Warner Brothers' films with The Jazz Singer, the Everly Brothers, at the top of the charts, switched recording contracts to a then-young Warner Brothers label, helping establish Warner Brothers as a major force in the record business. Their first Warner release, "Cathy's Clown," was a number one hit and one of their greatest releases.

By the early 1960s, the magic had begun to fade. The brothers were drafted into the Army, studied acting, and began to flounder. Don developed a drug problem, and, by 1962, the big run of the Everly Brothers was over. Their work in the mid-1960s found a better audience in Europe than their native country, and they even rose to host a television variety program in 1970.

As with many tight knit groups, they broke up in 1973, and spent ten years performing solo. In 1983, they rejoined, and for several years toured and recorded, doing their best to recapture some of their previous success.
---
---
Thanks to a member of the IAJS from Scotland for this clip!
---
If you came here from a link or search engine
Click here to return to the main page of this site
This listing and material Copyright © 2003 Marc I. Leavey, M.D. Baltimore, Maryland
Updated 19 Jan 03