---

|On Stage|Memorializers|Eric Rogers
---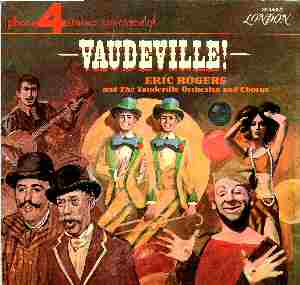 ERIC ROGERS
Best remembered today as the house composer of the Carry On series of British comedies, Rogers developed his love of music at an early age, in his local church where he learnt to play the church organ by the age of 13. Though he never had an formal tuition, Rogers was a fast learner and, during the Second World War, he earned plenty of free beer for himself by knocking out popular tunes on the piano in local pubs.
When the war ended, Rogers founded his own orchestra and gained a reputation leading his players at the Orchid Rooms in London's Trocadero. Eventually, his talents came to the attention of the film industry and he was offered the chance to start penning soundtracks. Featured in many films and television programs, he passed away in 1978, at the age of 57.
The excerpt featured on this page is from his album VAUDEVILLE!, which presents an old-time vaudeville program, which even sounds as though it was recorded in front of a live audience. As part of the program, there is a Minstrel Segment which includes "Ring Ring De Banjo," the Stephen Foster song included in the Jolson film Swanee River, and Jolson signature pieces "Swanee," "My Mammy," "April Showers," and "Waitin' for the Robert E. Lee."
---
Click here to hear the Minstrel Show from this album.
---
Thanks to a member of the IAJS for this selection!
---
If you came here from a link or search engine
Click here to return to the main page of this site
This listing and material Copyright © 2003 Marc I. Leavey, M.D. Baltimore, Maryland
Updated 14 Sep 03