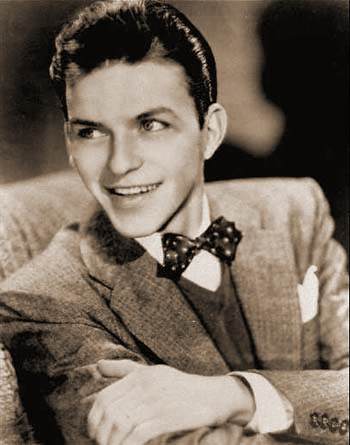 They called him the "Chairman of the Board," and to many, he represented the pinnacle of show business. But at the start of his career, Frank Sinatra paid homage to Al Jolson, the World's Greatest Entertainer, by singing one of his songs. Sinatra reportedly left a party where Jolson was singing, stating that he could not follow Jolie; but in 1946 he joined a radio tribute to Jolson, broadcast to promote the opening of The Jolson Story. Click and listen to a young Frank Sinatra, giving his interpretation of
Rock-A-Bye Your Baby With A Dixie Melody.

In 1947, Al Jolson introduced a song on the Kraft Music Hall,
"If I Only Had A Match." Frank Sinatra covered that song, that same year.
Click to hear Frank Sinatra's rendition of "If I Only Had A Match."

Of course, just for comparison, you can also
Click to hear Al Jolson's rendition of "If I Only Had A Match."