---

|On Stage|Memorializers|John Scott Trotter
---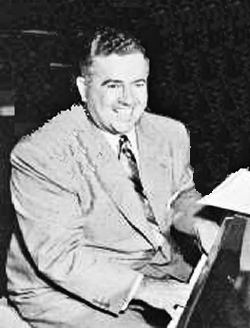 Bing Crosby's musical director during his hey-day was an easy-going mountain of a man, John Scott Trotter. Trotter weighed in at 12 pounds when he was born in Charlotte, North Carolina, in 1908. As an adult he weighed nearly 300 pounds. Trotter's professional music career began at the University of North Carolina in 1925 when he became pianist and arranger for a college band led by Hal Kemp. Trotter's chance for national fame came 12 years later in 1937. Bing was hosting the Kraft Music Hall with Jimmy Dorsey conducting the orchestra. Kraft insisted that the show include a concert spot of classical music, and Dorsey was having difficulty delivering an acceptable product. He gracefully left the show. In searching for a new musical director, Crosby asked his songwriter friend, Johnny Burke, about the arranger for singer Skinnay Ennis of the Hal Kemp Orchestra. Burke told him "John Scott Trotter." Crosby said "Get him."

Trotter was tracked down in New York and offered the job as Crosby's orchestra leader. Trotter accepted, and took over for Dorsey on the 8 July 1937 broadcast. Soon he was arranging and conducting for Crosby's Decca recordings as well. Their first Decca session was the up-tempo "It's the Natural Thing to Do," recorded July 12, 1937.

Trotter arranged and conducted for Crosby for 17 years. During that time several members of his orchestra went on to greater fame. Jerry Colonna (1905-86) was Trotter's trombonist when his comedic skills were discovered. While playfully singing "On the Road to Mandalay" with Trotter at the organ, Colonna began on a high note reminiscent of an air raid siren and went up from there. The next week he was featured as the guest "concert star" on the Kraft show. Soon Colonna joined Bob Hope's radio show as his comedy side-kick.

Trotter hired Spike Jones (1911-65) in 1937 to beat the drums in his orchestra. Jones became a celebrity during World War II when he moonlighted on a novelty song called "Der Fuhrer's Face." The song became such a hit that Jones left the Trotter orchestra late in 1942 to make a career for himself as conductor of a not-so-serious band, the City Slickers. Jones' raucous sound was invented by Trotter's orchestra to accompany (and cover) the dischordant notes of comedian Bob Burns on the bazooka. Later Jones and his City Slickers returned as guests on the Crosby show. After the City Slickers accompanied Bing on a song, Crosby was heard to say, "John Scott, don't ever leave me!"

Trotter remained as Crosby's musical director until 1954. Their last recording together was "In the Good Old Summertime" in May. That summer Bing decided to end his big-budget radio variety show and with it went his need for a full-time musical director. Bing wrote Trotter on Sept. 9: "I certainly hate to see the wonderful organization we have break up, and it gives me a wrench to be an instrument in its dissolution. I shall never forget all the good years you and I had together, and all the wonderful unselfish things you did for me and my interests. You had a great deal to put up with at times, and your patience and forbearance was always incredible. You must know how grateful I am to you for everything that you have done."

Trotter moved on to television, becoming musical director for the George Gobel show from 1954-60. He remained friends with Bing and was a frequent visitor to Bing's home, even helping redecorate Bing's San Francisco mansion. Trotter worked again as musical director for Bing on his 1964-65 ABC sitcom, "The Bing Crosby Show." Later he directed the music for the Charlie Brown cartoon specials. In 1970 Trotter was nominated for an Oscar and a Grammy for his musical score for the movie A BOY NAMED CHARLIE BROWN.

Bing once said of Trotter, "I'm not musically educated enough to really describe what he was in music terms. I just knew he was very good and he had marvellous taste."

Trotter died of cancer October 30, 1975, a month after arranging a Boston Pops special for PBS

Thanks and credit to Steven Lewis' Bing Crosby Page for this information!
---
John Scott Trotter waxed an album entitled John Scott Trotter's MUSIC HALL. It was a tribute to eight great stars, with their hits and for each, a musical portrait. Included were Fred Astaire, Jack Benny, Victor Borge, Perry Como, Bing Crosby, Ella Fitzgerald, George Gobel, and Al Jolson. About Al Jolson, Trotter said, "This man, Jolson, carried his style of singing squarely on his shoulderes throughout three generations and still remained the Star."

Listen to John Scott Trotter's recording of Sonny Boy from this album.



---
If you came here from a link or search engine
Click here to return to the main page of this site
This listing and material Copyright © 2008 Marc I. Leavey, M.D. Baltimore, Maryland
Updated 10 Aug 08