---

|On Stage|Memorializers|Maurice Chevalier
---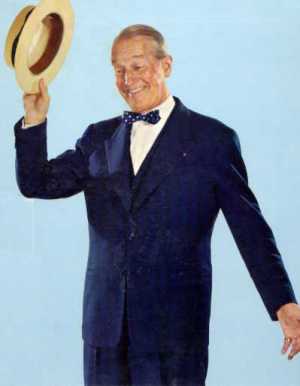 There are many stiking similarities in the careers of Maurice Chevalier and Al Jolson. Both place among the greatest entertainers of their century, both established themselves before the public as song-and-dance men, and both dominated the silver screen musicals of the thirties. Jolson radiated life itself in everything he sang -- and Chevalier invested his songs with a robust, buoyant joie de vivre that swept an audience before him and sent it mone humming.

In an album recorded some forty years ago, Maurice Chevalier recorded twelve songs as homage to the great Al Jolson. Chevalier had a wonderful time as he sang these songs, chosen from all facets of Jolson's panoramic career.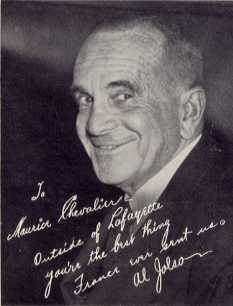 Singing of California, My Mammy, a baby to rock or a Swanee shore to see, Chevalier infused each performance with the glittering spark from the colorful, kaleidoscopic pinwheel that was his matchless art. On this page, you can enjoy his unique treatment of the classic Jolson number, "Ma Blushin' Rosie." Click on the title of the song, or the picture of Chevalier, to hear his interpretation and style.

---
If you came here from a link or search engine
Click here to return to the main page of this site
This listing and material Copyright © 2000 Marc I. Leavey, M.D. Baltimore, Maryland
Updated 10 Sep 00