---

|On Stage|Memorializers|Mandy Patinkin
---
A versatile stage-trained performer, Mandy Patinkin made his mark on Broadway in his Tony-winning role as Che in the Andrew Lloyd Webber-Tim Rice musical "Evita" (1979). Noted for his emotional intensity, lyric tenor and a penchant for perfectionism, the native Chicagoan received his training at Juilliard and appeared on stage in such musicals as "Sunday in the Park With George" (1984), "The Secret Garden" (1991) and "Falsettos" (1993) as well as his own one-man show. 5Patinkin made his film debut in "The Big Fix" (1978) and has since displayed his range in numerous features, notably as a Julius Rosenberg-like character in Sidney Lumet's "Daniel" and Barbra Steisand's friend and object of her affection in "Yentl" (both 1983). He garnered much applause for his comically vengeful Spanish swashbuckler in Rob Reiner's "The Princess Bride" (1987), as a humanoid "Newcomer" detective partnered with a bitter alcoholic in the underrated "Alien Nation" (1988) and as Madonna's piano player in Warren Beatty's colorful "Dick Tracy" (1990). In James Lapine's "Impromptu" (1991), he offered a flamboyant turn as a poet in romantic pursuit of Judy Davis' George Sand. Patinkin's modulated performance as a Good Samaritan drawn into a Kafkaesque fate worked in tandem with James Spader's more volatile portrayal of as a lowlife drifter in "The Music of Chance" (1993). The following year, he ventured in to weekly series television as an ensemble member of the ambitious CBS medical drama, "Chicago Hope". Patinkin brought appropriate anguish and intensity to the part of a brilliant heart surgeon haunted by personal demons, winning an Emmy for his work. But the production demands took their toll on the actor's personal life and Patinkin asked to be released from his contract, agreeing to return for periodic guest appearances.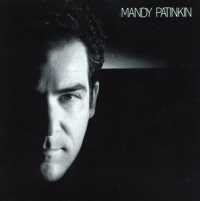 In his first major album, a 1990 release simply titled "Mandy Patinkin," he sang a number of songs associated with Al Jolson. Among the cuts on this album are Brother, Can You Spare A Dime, Sonny Boy, Rock-A-Bye Your Baby With A Dixie Melody, Swanee, and My Mammy. If you would like to purchase this CD, you may follow the link to Amazon.com by clicking the picture of the album at left. If you would like to listen to Patinkin's emotional, a capella version of one of Al Jolson's signature songs,


click here to listen to Mandy Patinkin sing Sonny Boy.



---
If you came here from a link or search engine
Click here to return to the main page of this site
This listing and material Copyright © 2002 Marc I. Leavey, M.D. Baltimore, Maryland
Updated 17 Nov 02