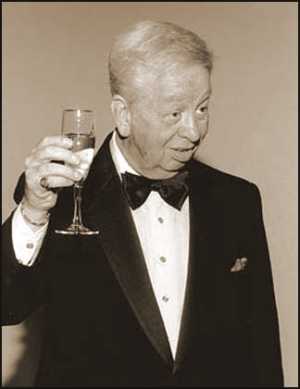 A versatile singer/songwriter, Mel Tormé's work as a pop and jazz vocalist has included just about everything: scat singing, work with jazz big bands playing swing music, a variety of smooth, easy-listening ballads, and jazzed-up popular songs. Tormé was born in Chicago on Sept. 13, 1925. Starting out as a student of the piano and drums, the teenaged Tormé started his professional career as a drummer, singer and arranger with a group led by comedian Chico Marx in 1942-'43. In 1943, Tormé appeared in the movie Higher And Higher, featuring his vocal swing band, the Mel-Tones. It was during this time that he made his first recordings as well.

He served in the military during World War II, after which he developed a reputation as a top-notch arranger and singer, working with, among others, Artie Shaw. Tormé's nickname, "The Velvet Fog," stems from his early period, when he sang with a high, husky voice. Eventually his singing voice would take on the better-known qualities of a baritone. Touring widely and much recorded, Tormé has performed all over the world on concert stages, in nightclubs, at festivals, on radio and television. During the 1960s, he produced his own television shows and became an actor and writer.

Motion pictures have never really been Tormé's priority: he's been too busy writing songs, recording albums, and penning biographies of such contemporaries as Judy Garland and Buddy Rich. In the 1980s, Mel Tormé was a frequent guest star on the TV sitcom Night Court, an offshoot of the well-publicized fact that Tormé was the idol of that series star, Harry Anderson.