---

|On Stage|Memorializers|Dick Haymes
---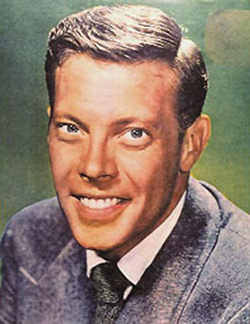 A popular crooner of the 1940s, Dick Haymes was born in Buenos Aires, Argentina, on September 13, 1916. His mother, Marguerite Haymes, was an Irish-born vocal coach and instructor, and likely the source of his talent. Through the big band era, he became the vocalist for a number of bands, including Benny Goodman and Tommy Dorsey, as well as performing in radio and motion pictures. Late in his life, he even made some television appearances.

Married six times, to Edith Harper, Joanne Dru, Nora Eddington, Rita Hayworth, Fran Jeffries, and Wendy Smith, he had six children. He died from lung cancer on March 28, 1980.

Haymes crooning style was well received in his day, and can be seen here with his version of the Rodgers & Hart song that Al Jolson made famous from Hallelujah, I'm A Bum, "You Are Too Beautiful."

Listen to Dick Haymes treatment of Jolson's "You Are Too Beautiful"



---
If you came here from a link or search engine
Click here to return to the main page of this site
This listing and material Copyright © 2007 Marc I. Leavey, M.D. Baltimore, Maryland
Updated 02 Sep 07