---

|On Stage|Memorializers|Tony Orlando and Dawn
---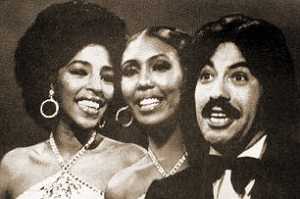 In 1970, Tony Orlando, a successful general manager at April-Blackwood Music was approached by two record producer friends and asked to sing lead on a song entitled, "Candida". Because the song was to be released by a rival company, Tony was hesitant. Only after it was decided that Tony would remain anonymous, he agreed. The song was released under the name, Dawn and soon landed the # 3 position on the pop charts.

There has always been some question as to whether or not Telma Hopkins and Joyce Vincent were actually involved in the first few songs recorded by Dawn, but according to "The Billboard Book Of American Singing Groups: A History 1940-1980" by Jay Warner, the session singers on "Candida", and Dawn's follow up hit, "Knock Three Times" (which Tony again provided the lead vocals for) were actually composer/producer Ellie Greenwich, Toni Wine, Jay Siegel and Robin Grean. Other sources dispute this saying that the background vocals were indeed put down by Telma and Joyce before Tony added the lead vocals.

When Dawn's second single, "Knock Three Times" reached # 1 on the pop charts, it was clear that this group had a future. Offers began to pour in from all over the country, as well as from Europe and Australia for Dawn to make personal appearances.

Around this time, Tony discovered that bogus groups, calling themselves Dawn were popping up all over and claiming these songs as their own. He then decided that it was time for the "real" Dawn to come forward. The only problem? There was no group. Dawn was a studio group and existed on record only.

Tony quickly began searching for two attractive women who could sing. Detroit-based record producer, Tony Camillo led him to Telma Hopkins and Joyce Vincent, two well-known and in-demand session singers in Detroit. They were just what he was looking for, but they were reluctant to give up their successful careers as session singers.

But Tony eventually convinced them to pack their bags and join him on a tour of Europe. No matter when the match-up took place, it proved to be successful, as the group went on to become one of the 1970's most popular vocal trios. Their exuberant brand of pop/rock and soul brought them international acclaim, and won them the hearts of millions of fans. Their many accomplishments during their seven years together included numerous hit records, sold-out concert tours, record industry awards and eventually, their own television variety show.
---
In 1975, Tony Orlando and Dawn recorded an album called "Skybird" with an amazing tribute to The World's Greatest Entertainer. It is of interest that this song, called "Jolie," is not the only song of that title recorded by the group. Another earlier song, with the same title, is on their "Tuneweaving" album, and it is quite a different number.

Click here to hear Tony Orlando and Dawn sing "Jolie."



---
Thanks to a member of the IAJS for this clip!
---
If you came here from a link or search engine
Click here to return to the main page of this site
This listing and material Copyright © 2003 Marc I. Leavey, M.D. Baltimore, Maryland
Updated 02 Feb 03