---

|On Stage|Memorializers|William Campbell
---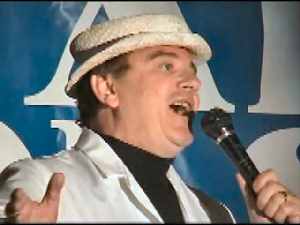 Bill Campbell and his wife, Helen, hail from Scotland, and joined the International Al Jolson Society in 1994. Bill first performed for the Jolson Society at the 50th Anniversary in Milwaukee in 2000. Since then he has appeared as 'Bumper' in New York in 2001; did a show called 'There's a Song in my Hat' at Orlando's 2002 Festival; and in 2003 he performed on Friday and Saturday nights on board the 'Queen Mary' celebrating Al's contribution to the War Years and Jazz Age Jolson.

Bill started singing at an early age in his church choir and became a Jolson fan at 10 years of age after he saw The Jolson Story. He has been involved in a great variety of musical productions and performances in Scotland and has received critical acclaim for a gangster role in Kiss me Kate, the role of Moonface Martin in Anything Goes, and more recently for his portrayal of Harry McAffee in Bye Bye Birdie.

Bill retired from his full time job as a Manager of Health and Social Care Services last November and now devotes most of his free time to singing and peforming in Aberdeen. Apart from singing he has written and published a book of poems which helped to raise money for local homeless people. More recently he has turned to lyric writing and recording. He has made 2 CDs; one called I'll Walk Beside You - a number of hymns and sacred songs which helped to raise money for his local church. His latest CD, Bill Campbell sings to the IAJS is, as the name suggests, a compilation of all the songs which he has performed at the various Jolson Festivals. For each member of the Society who buys one, a percentage of the proceeds will be donated to the Society.

Click here to see and hear a clip of Bill Campbell's performance from the 2001 New York Jolson Festival.
---
Bill Campbell Sings to The International Al Jolson Society. The CD contains the following tracks: Almost Like being In Love; Sweet Sixteen; About A Quarter to Nine; Come to Me--Annie Laurie; Hallelujah, I'm A Bum; Look for the Silver Lining; Four-Leaf Clover; April Showers; Mammy, I'll Sing About You; You Are Too Beautiful; Let Me Sing and I'm Happy; Looking At You. This a a very well-done CD. Cost $12 postpaid in America, order from the IAJS Catalog Dept (Skip Mack, N40 W5466 Spring St., Cedarburg, WI 53021). Overseas order directly from Bill Campbell, Strathlene. Meldrum Drive, Newmachar, Aberdeenshire AB21 0PH, Scotland (£10 postpaid). A percentage of the proceeds is being donated to the IAJS.

---
Bill Campbell Is The Songman. And here's another CD that Bill Campbell has produced for your enjoyment. This one contains original material, along with some classic tracks, including "As Time Goes By" and "The Wind Beneath My Wings." It includes Bill's favorite rendition of "I Got Lucky In The Rain," sung a cappella. As with his other CD, you can order directly from Bill Campbell, Strathlene. Meldrum Drive, Newmachar, Aberdeenshire AB21 0PH, Scotland.

---
---
If you came here from a link or search engine
Click here to return to the main page of this site
This listing and material Copyright © 2006 Marc I. Leavey, M.D. Baltimore, Maryland
Updated 29 May 06