---

|His Works|Films|Jolson Special Videos
---
---
Jolson's Video Heritage
---
A year before the making of The Jazz Singer, Al Jolson entered the Vitaphone studios to make a short that some feel was essentially a screen test for the film to follow. Thought lost for years, the Vitaphone disk turned up a few years ago, broken; and was restored and reunited with the existing film to resurrect this feature. Performing three songs in blackface on a plantation set, the young Al Jolson shows us a glimmer of his powerful stage personality. Here is the conclusion of A Plantation Act, in which Jolson answers the critics, even then, of "Mammy songs," and sings one of his favorites. In the picture above, by the way, Al Jolson is standing with Vitaphone executives during the filming of A Plantation Act. According to legend, Sam Warner, pictured at the far right, had decreed that all copies of this film be destroyed, to promulgate the legend that The Jazz Singer was the first talking picture. Thankfully, this copy survives to prove otherwise.



If you are running on a mobile device, or another platform that does not support Flash, here is the older clip in RealVideo format. You can use the VLC player on multiple platforms to view it, here is a link about that.


You can read all about the discovery and restoration of "A Plantation Act" in the "Vitaphone News." The Fall/Winter 1994 issue tells the tale of the discory, and the Summer/Fall-1995 issue the story of the restoration of the classic piece of Jolson movie history.
---
In 1944, a young soldier was recovering in an Army Hospital in Texas when he heard that the great Al Jolson would be there to give a show. Although it had been many years since his name had illuminated Broadway, and his last film role was only as a supporting player, the name of Al Jolson was still electric. Still a few years from his comeback with The Jolson Story, that ageing entertainer, all but forgotten to the general public, held the group of servicemen and women entranced for over an hour with songs, jokes, and stories; talking and singing to each of them as if giving a personal performance.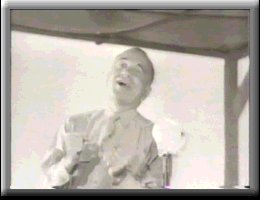 At the end of the show, one GI rushed up to Jolie, along with his friends, and asked for an autograph on a piece of cardboard torn from a box. That autograph, to Bud Irby, is shown at left. Click on Jolie's picture on the right to see just what the great one could do with a GI audience. This is from "Showbiz Goes To War," taped from a Canadian broadcast by IAJS member Michel A. Brunet. Merci!
---
If you came here from a link or search engine
Click here to return to the main page of this site
---
This listing and material Copyright © 1995-2016 Marc I. Leavey, M.D. Baltimore, Maryland
Updated 26 Dec 06
Updated 23 Jan 11
Updated 21 Aug 16