---
---

|His Works|Films|Rhapsody In Blue
---
---
On December 7, 1943, Al Jolson recorded George Gershwin's most famous song, "Swanee," for the soundtrack of the Gershwin movie biography, Rhapsody in Blue, then in production. Although it has been said that Al Jolson did more than twenty takes of this song, there can be no doubt that the end result is pure magic. The original vocal contained only a half-chorus after the whistling bridge, but thanks to some clever Hollywood editing magic the version we can enjoy contains a full chorus after Jolson's whistling.

Although Al Jolson filmed his screen cameo for the picture on December 9, 1943, two days after recording the track, the film would not be finished until 1945.

Here is an edited segment of the film, showing the build-up to the song, with Robert Alda as George Gershwin, Charles Coburn as Max Dreyfus, and Al Jolson as who else. Watch Jolie bursting onstage, running and skipping to center stage to own the spotlight. He whistles, he gestures, he does that little dance step he was so proud of. You can see, in this clip, that he could have never played himself in The Jolson Story. But he was still Jolson, the one and only, and this is quite a different look at "Swanee" than the one in his own biopic.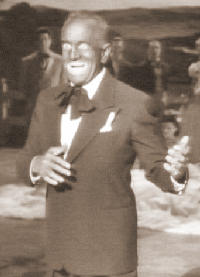 Click here to see and hear
Al Jolson sing "Swanee" in RealVideo
---
---
---
If you came here from a link or search engine
Click here to return to the main page of this site
---
This listing and material Copyright © 2004-2016 Marc I. Leavey, M.D. Baltimore, Maryland
Updated 12 Dec 04
Updated 28 Jun 09
Updated 26 Jun 16