---

|His Works|Films|Say It With Songs
---
---
A.J.Recordings
Say It With Songs - 1929
---
Al Jolson's third feature film, Say It With Songs, opened on August 6, 1929, was produced on the heels of The Singing Fool and reunited Al Jolson with child star Davey Lee, who was so popular in the previous film. Here is a brief summary of the plot of this film, along with a few photos from the picture, and several video clips as well.

---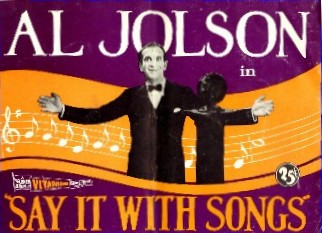 Say It With Songs tells the story of song plugger Joe Lane (Al Jolson) who is a struggling personality on radio station QRSA. Married to the lovely Katherine Lane (Marion Nixon) and with an adorable son, Little Pal (Davey Lee), all that Joe needs is that one big break.

Station manager Arthur Phillips (Kenneth Thompson) suggests the way to that break to Katherine, whom he has always loved, by telling her that he would be willing to give Joe a break, if she will be nice to him. In the vernacular of the times, "being nice" meant more than apple pie and coffee.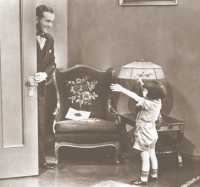 Getting wind of this offer, Joe picks a fight with Arthur while on the way to the radio station. A former prize fighter, Joe lays a good punch onto Arthur, sending him to the ground, where he strikes his head. Believing he just knocked Arthur down, Joe proceeds to his radio program. Bystanders help the dying Arthur to his feet, where he identifies his assailant before collapsing.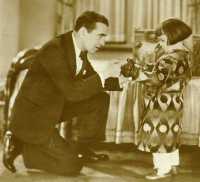 After locating Joe through the unwilling participation of his wife, the police proceed to the radio station and arrest Joe for the murder of Arthur Phillips. His trial and conviction are swift, and he finds himself in prison, locked in a cage.
While Joe is in jail, Katherine, who had been a nurse, returns to work, finding employment with Dr. Robert Merrill (Holmes Herbert), a bachelor doctor who had been holding a torch for Katherine for years. He makes no secret of his love for her, asking her to divorce Joe and marry him. Unwittingly, Joe, ashamed of his position, encourages her along the same path.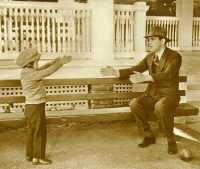 Finally released on parole, Joe visits the school where Katherine has placed Little Pal. Seeing his father, Little Pal is elated, and even after Joe leaves the school, runs after him. Without watching for traffic, Little Pal is struck by a car, and seriously injured.
After being told that the child needed expert medical attention, Joe swallows his pride and takes the child to Dr. Merrill, who happens to be a world expert on children hit by cars. Unable to pay any money, Joe initially rejects the doctor's offer of treatment in exchange for custody of the child, then recants as he realizes it is his child's only chance.
Unfortunately, all is to no avail. The child remains mute and confined to bed, until Katherine puts a record on the turntable, a recording of "Little Pal" that inspires a dream in the child that his father visited, and restores his lost faculties.
The movie ends with Joe on the radio, singing to his reconciled family and delivering a private, if somewhat ethnic, message to his wife and Little Pal.
---
Watch Al Jolson in "Say It With Songs"
Click on your selection to
hear and see the song clip!
---
| | | |
| --- | --- | --- |
| | Here he is, the little star of Say It With Songs, Davey Lee himself, at a Jolson festival a few years ago. After some severe health problems, Davey passed away in 2008. While a website that he had posted devoted to his relationship with Al Jolson has also passed into Internet History, you can see our tribute to this fine gentleman, on the Davey Lee Page of the Al Jolson Website, which includes some rare material about the child star. Davey, we love you! | |
---
All clips on this page are encoded in RealVideo format.



Use this link to get a Real Player
---
If you came here from a link or search engine
Click here to return to the main page of this site
---
This listing and material Copyright © 1995-2010 Marc I. Leavey, M.D. Baltimore, Maryland
Updated 26 Sep 04
Updated 03 Aug 08
Updated 01 Aug 10