---

|His Works|Films|The Singing Fool
---
---
A.J.Recordings
The Singing Fool - 1928
---
Opening on September 19, 1928, 2008 marked the 80th anniversary of "The Singing Fool," Al Jolson's second feature film -- a film which held the record as the largest grossing motion picture until "Gone With The Wind." To commemorate this classic film, the Al Jolson Website presents the story of this historic film classic, photos and other items, and clips in Real Video format from the movie.
---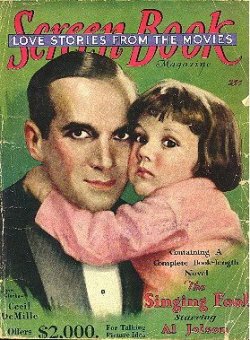 hen the other night clubs in the city were closing, the fun was just starting at Blackie Joe's. That's how it happened that a certain well known play producer gave a waiter the chance of a lifetime.

Al had never liked being a waiter, especially since he fell in love with Molly, the entertainer at Blackie Joe's. It was true that each evening he was allowed to sing one song for the guests, but there was no glory in that. He had written a song in his spare moments, a ballad, which he asked Molly to sing. She had been so deaf to his pleadings of love. Perhaps if she sang his song, or at least read the words, she would understand. But Molly was adamant, and Al related his troubles to Blackie.

Blackie had had more experiences with love than Al, and he was always ready to give advice.

"Why don't you sing it to her?" he suggested. "She's out here now, and she'll have to listen."

Al considered for a moment. He had specialized in comic songs. He shook his head forlornly.

"I can't sing it -- it's a love song."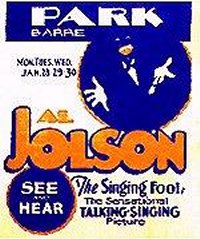 But Al was in love after all, and he was willing to try everything.
At the very moment that Al was singing, this certain well known producer was seated at a table with his party, and it occurred to him that this was a song that would go over big in a theatre. It also happened that Molly, who was always out for opportunities, had urged Blackie to introduce her to Marcus as soon as he came in, and she was sitting at his table when Al began to sing. She had tried vainly to interest him in her, but the producer's attention was focused on this unknown waiter. When Marcus wanted something, he usually got it, and in ten minutes he was talking business to Al. Al had been looking at Molly steadily, and he had come to the conclusion that she at last understood how he felt, and perhaps she returned his feeling.
"I want your song -- it's a knockout, and I want all you can write like it," Marcus was saying.
Al looked at Molly's wistful face, and then at Marcus, and then he answered: "Molly's going to sing everything I write. If you want the song you've got to take Molly."
Next day, it was all arranged, and Molly and Al started out on a new career.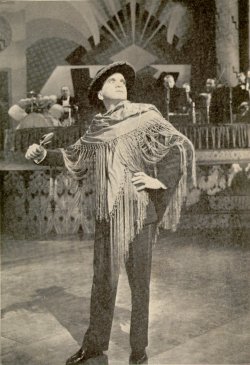 Three years later, nearly all of the music shops in the city were advertising Al Stone's latest hit. There had been thirty since the days at Blackie Joe's. As an added attraction a certain shop had on display Al Stone's photograph, and beside it, that of Molly Winton, the successful singer, in private life Mrs. Al Stone, who was putting his songs across.
Al had become proprietor of a successful night club and the most popular song writer in the business. While Molly, who had, of course, attained the success she had always wanted, was carrying on a clandestine affair with John Perry, a friend of Al's, Al was extolling her virtue to the world.
Even when she told him one night that she did not love him, he refused to believe her and went on living in a dream. He was totally blind to what was obvious to everybody else, so that when Molly finally packed up and went away, baby and all, the shock was too much for Al. For two days he lived in agony, and then he noted a paragraph in the newspaper:
"Interviewed at her suite in the Biltmore Hotel today, prior to her sailing on the 'Ile de France,' Miss Winton confirmed the rumor that she was contemplating a Paris divorce from her husband, Al Stone, song writer and Broadway's favorite master of ceremonies."
Al grasped at the last chance of seeing Junior. He called up Molly, and she consented to send the boy to see him at a specified meeting place in the park. Ten precious minutes he spent with him, while the maid and butler waited discreetly in the car. Then he had to see him drive off, perhaps forever, and he had to smile a good-bye so that Junior would not know that his heart was breaking.
Everyone knew that Al would not be able to bear up under the strain. When Molly and Junior went away, he lost his hopes and his ambition, gave up his night club, and wandered away somewhere. Nobody knew what he did or where he was.
Then one day an uncouth, deshevelled looking figure came to Blackie Joe's and stood at the entrance. The doorkeeper never admitted anyone he didn't know, and after all, this man was a disreputable looking person. Just as the man turned to go, Blackie Joe came to the door and recognized the wreck of a man as Al Stone. The questions could not come fast enough:
"Where have you been all these months? Marcus has been trying to get you for weeks. Why haven't you called me? Have you done any more writing?"
Al shook his head.
"Nothing doing, Blackie. I'm through. I can't write -- I can't get interested in anything."
Blackie talked to him exactly half an hour, and then it occurred to him that a woman could do more with him than he could. He remembered that in his waiter days he had been fond of Grace., the cigarette girl, and he recalled that Grace had been fond of him in more than a sisterly way. He would get her to talk to him.
It did not take Al long to get back in the running of things, and Grace was a great help. His play had been running on Broadway for many months, and for the first time in years he was almost happy. Then something happened again. Just before he was to go on for his performance, he received a call from Molly. In an anguished voice she implored him to come to the hospital.
He knew it was his boy and the ride to the hospital seemed to take hours. The tiny face on the pillow was thin and pale, and the boy was too weak to move. Junior looked up at him and tried to smile.
"Make me laugh like you use to. Sing me the song about the boy." When Al had finished singing him to sleep, the boy's eyes were closed. The doctor looked at him and explained that Junior would never wake again.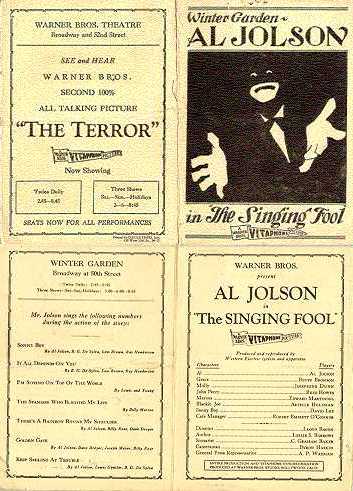 Al walked back to the theatre through crowds that he didn't see. His head was swimming, and his eyes were filled with tears. Now he was in the dressing room automatically applying the make-up to his face, automatically dressing as he did every other day, but thinking only of Junior. Grace had seen him come in and knew before he told he, but neither she nor Blackie could dissuade him from going on with his performance.
It was only when the orchestra struck up the song that he used to sing to Junior that he realized that he could not go on with it. But it was too late then. And he sang, he could think only of one thing -- that Junior was dead. The words that came from his lips were cold and meaningless. It was strange singing "Sonny Boy" to anyone but Sonny Boy, and he imagined him in his arms as he used to sing him to sleep. There was a mellowness in the tones and a warmth in the words now as he continued with the second verse. He sang in a dream with Juniors's face close to his and his tiny arms about his neck.
The curtain was rung down, and behind the wings Grace listened to the burst of applause that presaged a new and a more brilliant career.
---
Watch Al Jolson in "The Singing Fool"
Click on your selection to
hear and see the song clip!
---
| | | |
| --- | --- | --- |
| | Here he is, the little star of The Singing Fool, Davey Lee himself, at a Jolson festival a few years ago. After some severe health problems, Davey passed away in 2008. While a website that he had posted devoted to his relationship with Al Jolson has also passed into Internet History, you can see our tribute to this fine gentleman, on the Davey Lee Page of the Al Jolson Website, which includes some rare material about the child star. Davey, we love you! | |
---
| | | |
| --- | --- | --- |
| | The Singing Fool was really the first blockbuster talking picture. Here is an example of its influence in Europe. While The Jazz Singer opened the door, it was The Singing Fool that burst through the opening to illuminate our lives for evermore! | |
---
If you came here from a link or search engine
Click here to return to the main page of this site
---
This listing and material Copyright © 1995-2012 Marc I. Leavey, M.D. Baltimore, Maryland
Updated 09 May 01
Updated 24 May 09
Updated 01 Aug 10
Updated 16 Sep 12