---
---

|His Works|Broadway | The Wonder Bar
---

AL JOLSON
IN
"The Wonder Bar"
A continental novelty of European Night Life
Adapted by Irving Caesar and Aven Kandel from the
original of Geza Herczeg and Karl Farkas

---
Preview March 5-7, 1931; Belasco Theater, Washington, DC
Preview March 9-14, 1931; Sam S. Shubert Theater, New Haven Connecticut
Opened March 17, 1931; Nora Bayes Theatre, New York
Broadway performances -- 76
Closed May 29, 1931; Nora Bayes Theatre, New York

---
Toured from September, 1931 through April, 1932 in
New Jersey, Massachusetts, Pennsylvania, Maryland, Washington DC, Ohio, Michigan, Illinois, Wisconsin, Kentucky, Indiana, Missouri, Iowa, South Dakota, Nebraska, Oklahoma, Kansas, Texas, Louisiana, Arizona and California
---
In 1931, Al Jolson had been absent from Broadway for some five years, having made motion picture history with The Jazz Singer, followed by The Singing Fool, Say It With Songs, Mammy, and Big Boy. Having opened as Der Wunderbar in Vienna, producer Morris Gest purchased the American rights to the show along with the Shuberts in 1930, planning it as a vehicle for Harry Richman. When that deal could not be struck, Lee Shubert approached Al Jolson, who bought half interest in the show, along with a weekly salary of $5000, as its star.

The show was restructured around Jolson, giving him a wonderful opening number, "Good Evening Friends," and an old Yiddish song, "A Chazend'l Ohf Shabbes," as well. For a contempory look at the show, descriptions of the venue, and a feel for the course of the show, here are photographs, newspaper clippings, and more.
---
N E W S P A P E R A R T I C L E S (Click to view each one)
---
---
BACK TO THE "GREAT WHITE WAY"
New York City: Two famous men of the theatre -- Al Jolson and Morris Gest -- return to Broadway after a long absence as co-producer and star of the "Wonder Bar", a combination musical comedy, revue and cabaret opening at the Bayes Theatre next month.
Al Jolson and Morris Gest, perhaps looking over the material for the new Broadway musical "The Wonder Bar."
THE PLAYBILL (Click to view each page)
---
| | | |
| --- | --- | --- |
| | | |
| Rex O'Malley, Marie Hunt, and Al Jolson | | Patsy Kelly and Al Jolson |
---
| | | |
| --- | --- | --- |
| | | |
| Wanda Lyon, Vernon Steele, and Al Jolson | | Al Jolson at the Wonder Bar |
---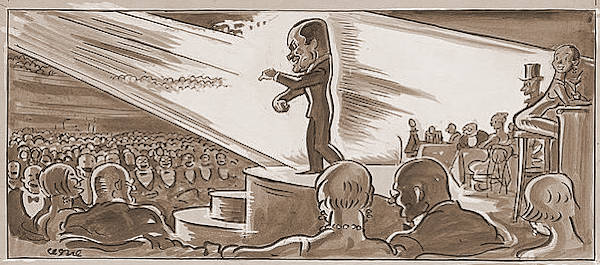 Al Jolson in "The Wonder Bar," by Oscar Cesare, 1931, published in the New York Times on March 29, 1931
---
| | | |
| --- | --- | --- |
| | | |
| Gladys Sugden, one of the Guests Of The Wonder Bar in the original Broadway production | | Claire Windsor, who played Lianne Duval in the touring company, with Al Jolson |
---
---
One of the songs that Al Jolson sang in The Wonder Bar was "Good Evening." While he never recorded the song, here is the way he performed it in the movie version of the show. Many feel that this performance inspired some aspects of the Master of Ceremonies in Cabaret, a generation later.
---
My sincere thanks to Herb Goldman, Don Tamblyn, Paul Bowers, David McCarthy, and Stan Gerloff for much of the research and archival material that made this page possible.
---
If you came here from a link or search engine
Click here to return to the main page of this site
---
This listing and material Copyright © 1995-2016 Marc I. Leavey, M.D. Baltimore, Maryland
Updated 13 Mar 16