---
---

|His Works|Vaudeville
---
---
Before he became a star on Broadway, Al Jolson worked his way up through the theatre, first with his brother, Harry, and later as a single act. Here is a look at one of those bookings.
---

It was 1910, and a young Al Jolson was on the UBO Vaudeville circuit. On February 28, 1910, he opened a one week engagement at Keith & Proctor's Fifth Avenue Theatre. Jolson received third billing, but he was on his way to stardom.
Sharing the bill with Jolson that week were two stars of the day, Here's a look at them.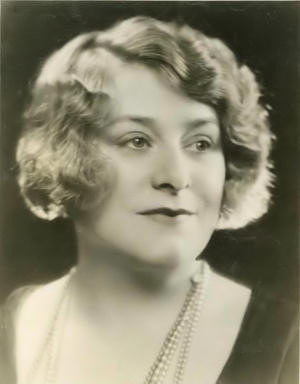 IRENE FRANKLIN
Born in New York into a vaudeville family, Irene Franklin (1876-1941) toured from a very early age becoming a star by the age of 16. She was variously a song-writer, impressionist and comedienne in vaudeville, a Broadway performer and Hollywood film actress. Starting in 1911 she made a number of recordings. She met Burt Green while performing at Tony Astor's in New York; the pair married and became a successful singer/pianist duo on Broadway as well as writing songs together. When Green died, she then teamed up with pianist Jerry Jarnegin whom she also married.
Among Irene Franklin's hit songs was Red Head Rag, co-composed with Green in 1910, which became her signature tune. Click to hear Irene Franklin sing Red Head Rag in a 1913 recording.

---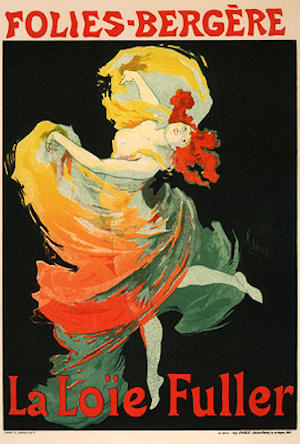 LOIE FULLER
Born Marie Louise Fuller in the Chicago suburb of Fullersburg, now Hinsdale, Illinois, Loie Fuller began her theatrical career as a professional child actress and later choreographed and performed dances in burlesque (as a skirt dancer), vaudeville, and circus shows. An early free dance practitioner, Fuller developed her own natural movement and improvisation techniques. Fuller combined her choreography with silk costumes illuminated by multi-coloured lighting of her own design. Although she became famous in America through works such as her 1891 Serpentine Dance, she felt that she was not taken seriously by the public who still thought of her as an actress. Her warm reception in Paris during a European tour persuaded Fuller to remain in France and continue her work. A regular performer at the Folies Bergère with works such as Fire Dance, Fuller became the embodiment of the Art Nouveau movement. An 1896 film of the Serpentine Dance by the pioneering film-makers Auguste and Louis Lumière gives a hint of what her performance was like. (The unknown dancer in the film is often mistakenly identified as Fuller herself.)

---

Al Jolson in the 1910 era

AL JOLSON
Having left Lew Dockstader's Minstrels in December, 1909, Al Jolson was touring as a single with the UBO Vaudeville circuit in early 1910. Starting at the Colonial Theatre in New York City, he moved on to Brooklyn, Bronx, Boston, Massachusetts, and Providence, Rhode Island, before this opening at Keith's Fifth Avenue on February 28, 1910.

In his biography of Al Jolson, Jolson - The Legend Comes To Life, Herb Goldman gives a look at how powerful Jolson's presence was at the time:

Jolson was so successful with a new song — Harry von Tilzer's "Hip, Hip, Hypnotize Me" — that it was impossible for the next act to go on until he had given a second encore and made a speech. A writer for the American Magazine thought the song was "frankly filthy ... There is in every audience a certain percentage that may be counted on to greet evil suggestion with enthusiasm. On this occasion, that percentage laughed uproariously and applauded wildly. When Jolson came out to respond with an encore he frankly and proudly admitted in so many words that he had just sung a filthy song. The band, as he came out, again struck up the opening bars of the ballad about the hypnotist.
"No," said Jolson, with mock severity, "that's dirty. Don't play that." More laughter from the audience. "Ah-ha!" cried Jolson delightedly, "that's what you want. I knew you wanted that. I ought to have opened with that."

Within a year, Al Jolson would be taking his first steps on Broadway.

If you came here from a link or search engine
Click here to return to the main page of this site
---
This listing and material Copyright © 1995-2017 Marc I. Leavey, M.D. Baltimore, Maryland
Updated 27 Feb 11
Updated 26 Feb 17