---
---

|His Works|Broadway | Vera Violetta
---
---
While Vera Violetta was not Al Jolson's first appearance on Broadway, that honor belonging to La Belle Paree, the show which had opened the Winter Garden in March, 1911, it established Al Jolson as a true Broadway star.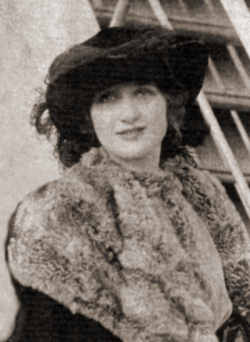 Gaby Deslys
the star of Vera Violetta

The show opened on November 13, 1911, at Harmanus Bleecker Hall, in Albany, NY, playing through November 15. It then moved to the Court Square theatre, in Springfield, MA, on November 16, and the Hyperion, in New Haven, CT, on November 17 and 18. It arrived at the Winter Garden, in New York, on November 20, 1911, and played through February 29, 1912.

Set in a skating rink, the show featured Al Jolson as Claude, a blackface waiter, playing to the star of the show, Gaby Deslys, a French actress brought over by the Shuberts some months earlier, when she appeared in a show, The Revue of Revues, with Al's brother, Harry.

Among the cast shown in the opening night ad was "May West," later known as "Mae West," then just a 19 year old starlet who reportedly left the cast prior to opening night due to a conflict with Mlle. Deslys.

Al Jolson's performance in Vera Violetta was electric. Although not the star by any means, he stole the limelight from those billed above him. He sang two songs in the show, one of which reportedly while running up and down the center aisle of the theatre, and those two songs became his first commercial recordings.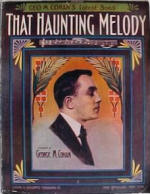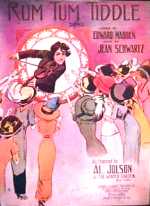 Listen to Al Jolson, from 1911, sing:
That Haunting Melody
and
Rum-Tum-Tiddle
In his review in the New York Times, Adolph Klauber wrote that Al Jolson "...succeeded in rousing the audience into its first enthusiasm of the evening, and kept them enthusiastic much of the time afterwards.
The shooting star named Jolson was born.
---
The Evening's Program for Vera Violetta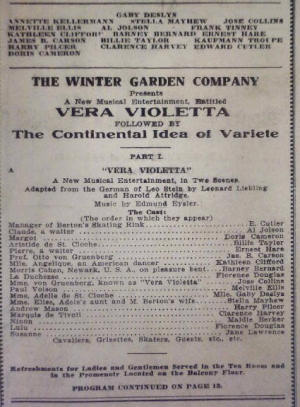 ---
New York Times review, November 21, 1911

---
If you came here from a link or search engine
Click here to return to the main page of this site
---
This listing and material Copyright © 2007 Marc I. Leavey, M.D. Baltimore, Maryland
Updated 25 Nov 07
Updated 28 Nov 07