---

|His Works|Studio Recording|October Recordings
---
---
Al Jolson
The October Recordings
---
Al Jolson recorded only eight tracks on two labels during the month of October. Enjoy this modest collection of Jolson goodies. There are a few more on next month's list.
---
The Columbia Recordings
---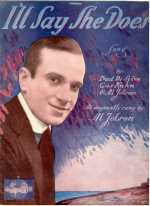 24 Oct 1918: I'll Say She Does - Here's an early song with an undercurrent of sexuality that shows Jolson's unmistakable stamp. Introduced in the show Sinbad, Jolson took credit for the lyrics, and performed them as no one else ever could! It was a giant hit, holding the number 1 spot on the Billboard charts for 6 of the 9 weeks it was listed!

---
03 Oct 1919: Tell Me (Why Nights Are Lonely) - A Jolson version of a torch song, this one pines for that girl who just is not there. Another popular Jolson recording, it reached the number 3 spot on the Billboard chart, and was listed for five weeks.

---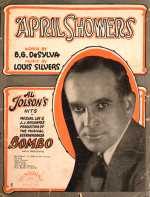 19 Oct 1919: Chloe - Al Jolson and Buddy DeSylva are credited with this song, one of the first "Mammy" songs identified with Jolson. Another favorite with the people, this song peaked at number 5 on the Billboard charts, where it was listed for four weeks.

---
21 Oct 1921: April Showers - If Al Jolson had a theme song, this was it. Introduced in the show Bombo, "April Showers" was a hit from the start, a favorite of soldiers overseas, and the theme song for Jolson's radio shows. It remained on the Billboard charts for 17 weeks, with eleven of those weeks in the number one spot!

---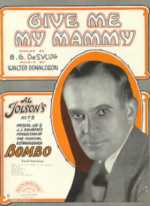 21 Oct 1921: Give Me My Mammy - Written by Buddy DeSylva and Walter Donaldson, this is yet another "Mammy" song, introduced in the show Bombo, and probably sung before "My Mammy," but showing some of the elements Jolson would put into the latter song. The lyrics? Jolie might say they are corny as a deuce! Nonetheless, it reached the second spot on the Billboard charts for half of the eight weeks it was listed.

---
10 Oct 1922: Lost! A Wonderful Girl - A rocking, rhythmical song, with the title saying it all, you can just see Jolie wandering the stage from side to side with this number. Backed by the Frank Westphal Orchestra, this song was listed on the Billboard charts for three weeks, and reached the #4 position.

---
The Brunswick Recordings
---
02 Oct 1924: All Alone - Listen to this wonderful Irving Berlin song which has been done by many, but never as well as by Al. This original 1924 recording may be his best version of the number. You know that the public loved it, it held the top spot on the Billboard charts for 5 of the 9 weeks it was listed.

---
15 Oct 1924: I'm Gonna Tramp! Tramp! Tramp! - Buddy DeSylva and Harry Woods, who wrote so many Jolson songs, penned this little marching tempo ditty. Catch some of the novel lyrics!

---
---
Alternate Take
---
Al Jolson always said that he never sang a song the same way twice. Enjoy this alternate take of one of this month's recordings.
---
03 Oct 1919: Tell Me (Why Nights Are Lonely) - According to the data that we have, Al Jolson recorded three "takes" of this number on this date. The first take was labeled as a "HOLD," the second take was the major release, and this is the third take, albeit in less than pristine quality, which was also released on a Columbia 78 disc.

---
---
All songs on this page are encoded in RealAudio format.



Use this link to get a Real Audio Player
---
If you came here from a link or search engine
Click here to return to the main page of this site
---
This listing and material Copyright © 1995-2016 Marc I. Leavey, M.D. Baltimore, Maryland
Updated 29 Oct 17