---

|The Man|Al Jolson's 1933 Cadillac
---
---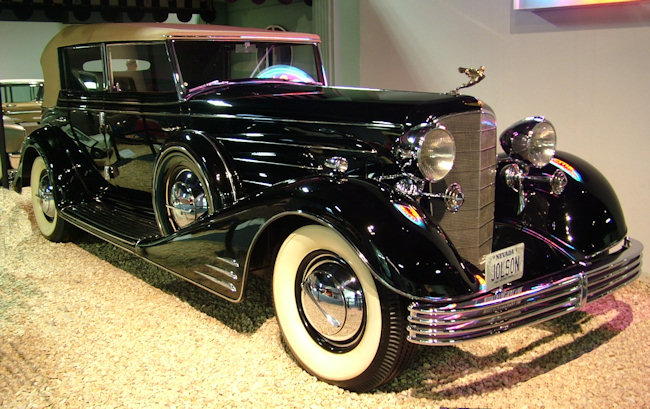 1933 CADILLAC
Model: Series 452C, All-Weather Phaeton
Built by: Cadillac Motor Car Co., Detroit, Michigan
Body by: Fleetwood
Price: $8,000
Engine: OHV V-16 cylinder, 165 H.P.
Bore: 3 in.
Stroke: 4 in.
Displacement: 452.4 cu. in.

Cadillac Motor Car Company's first V-type engine design was introduced in October 1914, as the Cadillac V-8 Model 51. In its quest for higher engine performance, Cadillac experimented for more than three years with a V-16 engine design. The V-16 was designed, engineered, prototypes handbuilt, and hundred of thousands of miles of testing were accomplished without public knowledge. But when it was formally announced in December 1929, orders poured in from eager would-be owners who had not even seen one. The new 16-cylinder Cadillac made its first public appearance in the form of a majestic Imperial Landau Sedan with Fleetwood coachwork at the 1930 New York Automobile Show. In an era of fours, sixes, and straight-eights, the public was dazzled by the very notion of a 16-cylinder powerplant.



Despite the technological innovations and high quality custom coachwork, Cadillac sales dropped yearly as the Depression continued to devastate the luxury car market. Cadillac's worst year was 1933, and it was announced that only a limited number of V-16's would be produced. Serial numbers would range from 1 to 400, and the owner's name and the car's serial number would be engraved on a special plate attached as an integral part of the car. Al Jolson, a famous singer and movie star in the 1920's and 1930's, ordered the five-passenger All-Weather Phaeton displayed here. It was Cadillac's most expensive model for 1933, priced at $8,000. Of an anticipated 400 V-16's, only 126 were produced in 1933, and Al Jolson's car was number 56.

This display, at The National Automobile Museum, The Harrah Collection, in downtown Reno, NV, came about after David Miller, Publicity Director for the IAJS, visited the Museum and set things in motion for the Society's sponsorship of the car, helping to bring attention to the International Al Jolson Society.
---
---
If you came here from a link or search engine
Click here to return to the main page of this site
This listing and material Copyright © 1995-2017 Marc I. Leavey, M.D. Baltimore, Maryland
Updated 31 May 09
Updated 27 Feb 11
Updated 31 Oct 17